Private Owner Reefer
Bachman
No. 5296-B

Private Owner Reefer
Berhshire Ham
No. 5296-I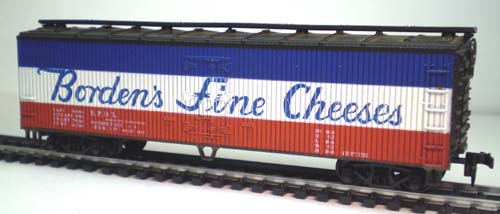 Private Owner Reefer
Borden's
No. 5296-H

Private Owner Reefer
Chateau Wines
No. 5296-K

Private Owner Reefer
Doggie Diner
No. 5296-D

Private Owner Reefer
Farmers Co-op
No. 5296-F

Private Owner Reefer
Merchants Biscuit Co.
No. 5296-G

Private Owner Reefer
Morrell
No. 5296-C

Private Owner Reefer
Oscar Mayer
No. 5296-B
No. 12601

Private Owner Reefer
Rath Ham
No. 5296-E
No. 12602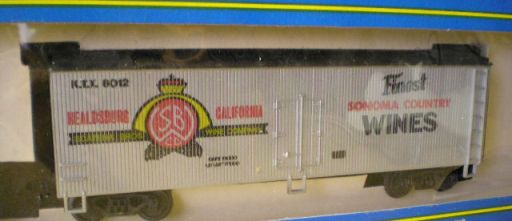 Private Owner Reefer
Sonoma Wines
No. 5296-J
No. 5296-10
No. 12603
The 1977 AHM catalog includes a set of ten cars called Private Owner Reefers. These cars carry the four-digit stock number 5296 with a letter suffix designating the roadname. Retail on this car was $2.98 in 1977.
Though this car is not found in the AHM 1980 catalog, it was likely still among the product line. The 1980 catalog appears weak in its inclusion of rolling stock items in general and this 40ft. reefer seems to have be left out.
AHM includes a trio of 40ft. reefers in its early '80s catalogs, then labeled 40' Billboard Box Car and carrying five-digit stock numbers. Only the Oscar Mayer, Rath Ham, and Sonoma Wines survive into the 1980s.
Private Owner or Billboard Reefers becamed prohibited from American railways with a July 1934 ICC (Interstate Commerce Commission) ruling. Signature Press Books published excellent book that details the history of these interesting freight cars, "Billboard Refrigerator Cars" by Richard H. Hendrickson and Edward S. Kaminski.