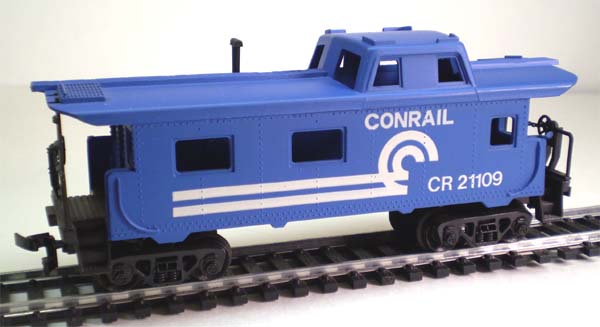 Streamline Cupola Caboose
Conrail
No. 5489-C

Streamline Cupola Caboose
Santa Fe
No. 5489-B
This AHM Caboose model has very familiar tooling, but it's not a TYCO-Mantua clone as you might first expect. Though the differences are minor, this AHM example actually is a closer relative to the Pemco Caboose model. The Pemco, as with this AHM, both seem to have gotten their inspiration from the well known TYCO-Mantua streamline cupola model. To date, I've only confirmed the Conrail scheme for the AHM model; though there also appears to be a Santa Fe in the AHM collection. AHM refers to this model on the box flap as being a 35' Metal Caboose.
No exact date is confirmed on this model. I don't find it in any of my AHM catalogs. However the numbering used and the fact that it may be the ex-Pemco model would suggest early/mid 1980s availability.
The origin mark on this model carries CTC and Hong Kong and is very similar to the marks found on the bottom of the Pemco example. See my Pemco site for more information.