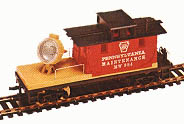 Operating Pennsylvania Floodlight Car
(No.347)
During the 1970s, TYCO catalogs a Pennsylvania example of the Operating Floodlight Car (No.347). This Pennsy car has a yellow base and light with red caboose section that features a black roof. The Pennsylvania Railroad lettering is white and notes the car as being in maintenance service and it carries the roadnumber MW 984. This style Operating Floodlight Car remains in the catalog until appearing a final time in the 1979 edition. It is replaced as of 1980 with the Burlington Northern version.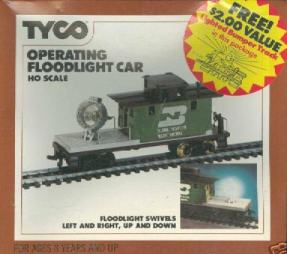 Operating Burlington Northern Floodlight Car
-No.346 and 346B
(1980-1992)
TYCO's 1980 catalog is the first to feature the Operating Floodlight Car (No.346) decorated for Burlington Northern. Formerly offered lettered for the Pennsylvania Railroad, after 1980 the item receives a different stock number and the caboose section is green with a black roof and white BN lettering and logo. The base car itself is not altered, only the paint job is different from the former offering. The image provided here represents an example that includes a Lighted Bumper Track (No.454) and would carry the stock number 346B. This version of the Operating Floodlight Car with bonus Lighted Bumper Track is cataloged from 1984 to 1986.
Operating Durango Floodlight Car
-No347B
(1976)
TYCO's 50th Anniversary catalog in 1976 includes The Durango train set (No.7318). The Durango train set featured a unique example of the Operating Floodlight Car dressed in TYCO's Durango paint scheme. The Durango car features red base, light and roof with a brown caboose section that carries the Durango logo. The Durango example was not sold or listed as a separate Action Accessory item like the Pennsylvania (No.347) and Burlington Northern (No.346) Floodlight Cars. The 1977 TYCO catalog still offers a Durango train set, but it features the Streamline Off-Center Cupola Caboose and no longer included a Floodlight Car.