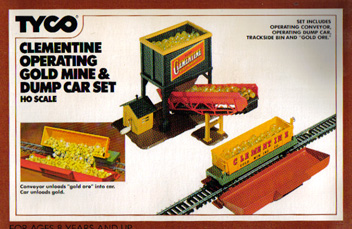 Operating Gold Mine
-No.936 (1979-1981)
TYCO's Operating Gold Mine (No.936) is first found in the company's 1979 product catalog. Decorated for TYCO's Clementine train set (No.7333), the Operating Gold Mine was among that set's contents and was also listed in '79 as a separate item in the Action Cars & Accessories line. Though sharing the same base model used for TYCO's Operating Gravel Conveyor (No.922) and the later Operating Grain Elevator (No.870), the Operating Gold Mine is a more elaborate offering including an Operating Dump Car and Trackside Bin.
The Operating Dump Car and Trackside Bin found in this Gold Mine set are the base pieces that make up TYCO's Operating Gravel Dump Car (No.929); Ore Dump Car Set (No.916); Operating Pipe Dump Set with Dumping Station and Pipe Load (No.953) and Operating Coal Dump Set with Dumping Station and Coal Load (No.956). The Dump Car is a 40' flat car that holds the hopper section. The separate hopper section includes a separate brake wheel at one end. It has been seen in a typical TYCO freight car package carrying the stock number 936-2. By turning the closed bin of the car's hopper section into an open hopper, TYCO squeezed another entry out of this freight car making the Operating Log Dump Set with Dumping Station and Log Load (No.952).
The Operating Gold Mine, as well as the Operating Gravel Conveyor and Operating Grain Elevator, is a non-electrical Action Accessory. Beginning around 1980, TYCO moves away from the typical accessory item that required wiring to the power pack for operation and introduced items that did not demand much effort to put them into action. The "gold" provided with this item is actually a very common looking jewelry bead complete even with the same hole drilled through the center for stringing on a necklace. TYCO uses the same bead cast in different colors to serve as rock in the Gravel Conveyor.
Considering TYCO produces three variations on this same base model, non survive for very long in the company's product line. Introduced in 1979, the Operating Gold Mine serves in the Clementine train set which is only cataloged in '79. The Gold Mine returns again in 1980 and a final time in 1981. The Gravel Conveyor exists in catalogs for 1979 and 1980 only; while the Grain Elevator gets two years in catalogs only in 1981 and 1982.