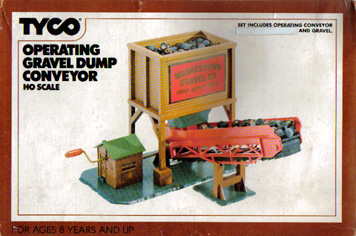 Operating Gravel Conveyor
-No.922 (1979 and 1980)
TYCO's Operating Gravel Conveyor (No.922) joins the company's product line in 1979 along with the similar Operating Gold Mine (No.936). The Gravel Conveyor is lettered for "Moorestown Gravel Co." which is the hometown for TYCO Industries in New Jersey at the time this item was produced.
The Operating Gravel Conveyor, as well as the Operating Gold Mine and Operating Grain Elevator, is a non-electrical Action Accessory. Beginning around 1980, TYCO moves away from the typical accessory item that required wiring to the power pack for operation and introduced items that did not demand much effort to put them into action. The "gravel" provided with this item is actually a very common looking jewelry bead complete even with the same hole drilled through the center for stringing on a necklace. TYCO uses the same bead cast in a gold-fleck color to serve as "gold" in the Gold Mine.
Considering TYCO produces three variations on this same base model, none survive for very long in the company's product line. Introduced in 1979, the Operating Gravel Conveyor is in business in the '79 and '80 catalogs only. The Gold Mine gets a three year run from 1979 to 1981; while the Grain Elevator is listed in catalogs from 1981 and 1982 only.
Look closely at the picture of the box for the Gravel Conveyor above and you'll notice a white sticker is blocking out something on the contents listing in the upper right corner of the package. One assumes it must be calling for the Dump Car or Trackside Bin that is neither pictured, not ever part of the contents of this item.