Brown Box Era HO-Scale Trains
Gondola

TYCO's Gondola is a 40-foot example and was offered with some variation over the course of its existence. The major differences in Gondola offerings relate to the contents included with the car. TYCO most often supplied a set of three culvert pipe sections, but by the 1980s the car is also found with the magnetic barrels as its load. TYCO included a 40-foot Gondola dressed for Pine Hill Logging in The Big Logger train set and Log Loader with Log Car (No.914) accessory.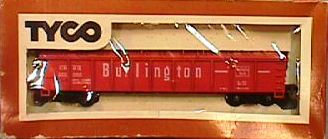 Gondola
Burlington
No. 338-A
This example of the TYCO gondola was offered in the early 1970s and listed as Covered Gondola. It differs from later examples only in the roof that fits onto a standard TYCO gondola model.

Gondola
Burlington Northern
No. 341-G
This Burlington Northern example included a set of three magnet-equipped yellow barrels for use with TYCO's Giant Operating Crane.

Gondola
Union Pacific
No. 341-B
TYCO produces at least two variations for its Union Pacific Gondola, both carrying stock number 341-B. The original UP Gondola is seen above and it is lettered for maintenance service and has thin, small red lettering. TYCO's second UP Gondola carries large red UNION PACIFIC lettering. Both versions included three culvert pipe sections.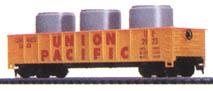 Gondola
Union Pacific
No. 341-B
If you're looking for a project that utilizes TYCO's 40-foot Gondola model, check out The Steel Era: A Hopper-Bottom Gondola by Robert Schleicher in the Fall 1978 Great World of Model Railroading. The article details creating a 1909 prototype steel gondola with a hopper bottom. Schleicher uses an MDC hopper, but any HO hopper model would be practical for this project. It's an interesting read and shows a basic and fun project that virtually any skill level modeler could attempt to create. This complete article is available online at TrainLife.com. See this and more on the TrainLife website.