50-foot Box Car
Alaska Road
No. 339-J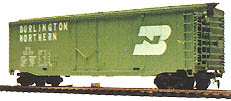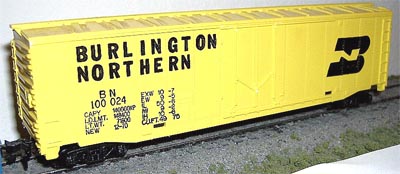 50-foot Box Car
Burlington Northern
No. 339-E
Though the green with white lettering example is the most common example of this model, TYCO did also produce a yellow car with black BN lettering. The BN car's length of availability in the TYCO product line also provides for examples with open and also many with filled in steps.
50-foot Box Car
Canada Dry
No. 339-Q
No TYCO catalog appearances for this 50ft. Box Car carrying Canada Dry markings. In addition to this Canada Dry car, TYCO also produced a similar car lettered for Canada Dry that was stock number 365-B. The difference between the two Canada Dry cars appears to be the roof and ends of the 365-B car are painted green; the 339-Q car pictured here is solid white.

50-foot Box Car
CP Rail
No. 339-D
TYCO did apparently produce some lettering variations for the CP Rail 50' Plug Door Box Car. Though all known examples feature the light blue car with black and white lettering, roadnumbers and/or the car's data info is different on certain production runs. One example features a more condensed spacing to the CP Rail name and carries the roadnumber 9208; the other has a wider spaced CP Rail and carries roadnumber 56767. Thanks to Tony Lucio for info on the car variations.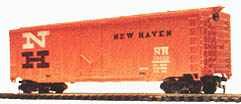 50-foot Box Car
New Haven
No. 339-B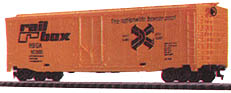 50-foot Box Car
RailBox
No. 339-F
TYCO offered at least two different RailBox decorated 50' plug door box cars. Seen here is the 339-F example RailBox Box Car, also produced under the Billboard Box Car series was RailBox Billboard Box Car 365-F. The Billboard Box Car example features a silver roof and ends with black doors.
50-foot Box Car
Santa Fe
No. 339-A 1st Version Brown Box -El Capitan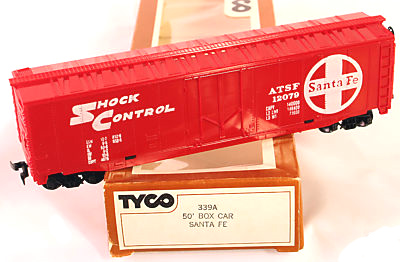 50-foot Box Car
Santa Fe
No. 339-A 2nd Version Brown Box
50-foot Box Car
Seasons Greetings
No. 339-S
Did not get coverage in any TYCO catalogs, the "77" on the car refers to the year of issue. Have seen reference to a possible certificate included in the car, but don't have further information or confirmation.

50-foot Box Car
Shop-Rite
No. 339-P
This car was included in a Shop-Rite Supermarkets' promotional train set. I do not have proof that it was sold as an individual item, however I have seen it packaged in a typical 1970s TYCO brown box and it was labeled for Shop-Rite and carried the stock number 339-P. Neither this box car, nor the Shop-Rite train set found themselves pictured in TYCO's product catalogs at any point.
50-foot Box Car
Whirlpool
No. 339-G
This TYCO 50-foot Box Car receives no catalog appearances and is thought to be part of a promotional train set offering.