Box Car
Boston & Maine
No. 311-G
TYCO's blue Boston & Maine Box Car release pre-dates the '70s Brown Box Era. The car is one of three examples to be illustrated in 1979, the final time TYCO's includes the 40' sliding door box car among freight car offerings.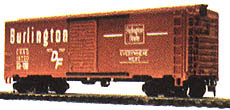 Box Car
Burlington
No. 311-T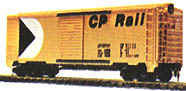 Box Car
CP Rail
No. 311-A -1974 Release

As with many TYCO freight cars, the CP Rail 40' Box Car was produced with the open step and the filled-in step tooling. This car is first found in the 1974-75 TYCO catalog. Tony Lucio image.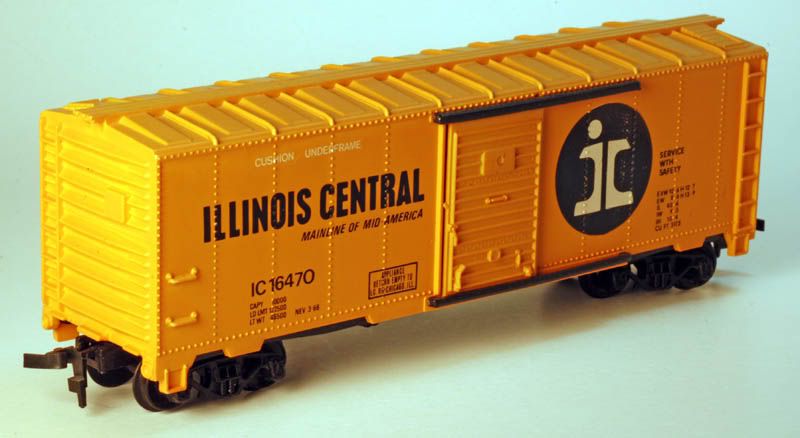 Box Car
Illinois Central
No. 311-B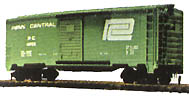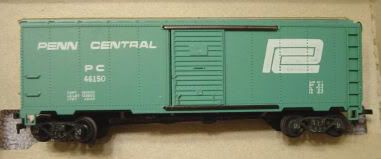 Box Car
Penn Central
No. 311-X -1970 Release

TYCO includes the Penn Central example in the 1975-76 product catalog among Box Cars offerings, however its availability is beyond just this single year. The first appearance in a catalog appears to be the 1970-71 edition, where you'll find the 40' Penn Central Box Car displayed in train sets. Above are two examples of the car, showing its production included both open step and filled-in step examples.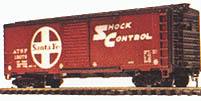 Box Car
Santa Fe
No. 311-U
TYCO's Santa Fe 40' Box Car release pre-dates the '70s Brown Box Era. The earliest catalog appearance I find for this red and black box car is the 1963-64 TYCO catalog. Given the length of time this model was available in the TYCO line, there are numerous variations to both paint and lettering, as well as the tooling.
Southern Pacific
No.311-P
Tony Lucio image