Billboard Reefer
Hershey's
No. 355-B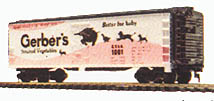 Billboard Reefer
Gerber's
No. 355-D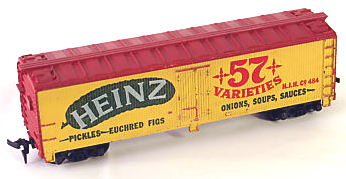 Billboard Reefer
Heinz
No. 355-F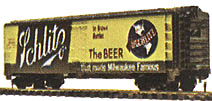 Billboard Reefer
Schlitz Beer
No. 355-A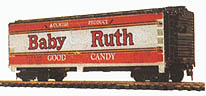 Billboard Reefer
Baby Ruth
No. 355-C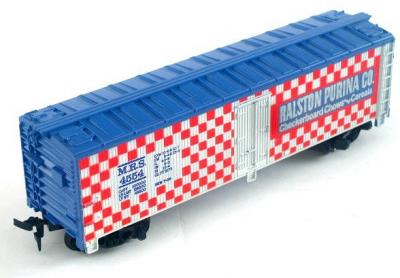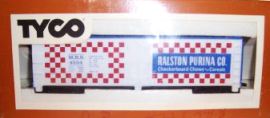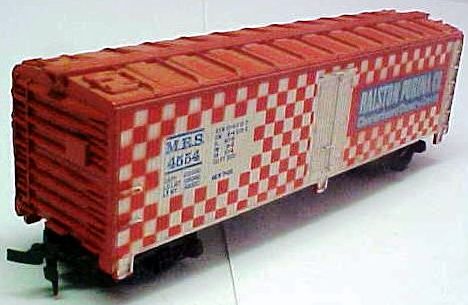 Billboard Reefer
Ralston Purina
No. 355-E
TYCO spotters have noted a variation exists on the application of the paint scheme for the Ralston Purina car. The blue roof/end car's difference mainly is the pattern of Purina's famous checkboard. On the first presented example, the car's checkboard runs the length of the body and over the top of the door. The other version has the checkerboard pattern broken into two rectangluar areas that do not meet over the car door. Additionally, the checkerboard pattern does not extend out to the end of the car on the side opposite of the ladder. This second example is the one shown in a TYCO box. TYCO would use this same Ralston Purina scheme and apply it to the 40' Hi-Cube Box Car when it did service as a Chug-Chug Sound Box Car in the final Chattanooga train sets. Finally, a red roof/end variation is known to exist and it is the third example.
TYCO utilized the same 40-foot refrigerator car under three different names. Originally the car carried the 329 series stock number and was simply called a Reefer. TYCO also used the car as a Billboard Reefer with a 355 series number, found on this page. And finally, TYCO also calling this 40' ice-hatch refrigerator car an Old-Time Reefer that was the 370 series numbered freight car offerings. This car's shell tooling is a single piece with separate brake wheel applied. Examples examine for the Billboard Reefer series are known to feature filled-in steps.
Though it may surprise some, many of the billboard schemes found on TYCO's Reefer models did have prototypes in the real world. The prototype may well have been a different type of refrigerator box car, but TYCO's paint schemes weren't far off the mark. The ICC (Interstate Commerce Commission) passed a ruling in 1934 that made cars carrying advertising on their sides prohibited from the rails.