Covered Hopper
Ajax
No.359-D -1974 Release
Covered Hopper
Arm & Hammer
To date no Arm & Hammer TYCO Covered Hopper examples have been found and it is not known to exist as a model beyond the pre-production example introduced in the company's 1973-74 catalog.

No. 359-B -1973 Release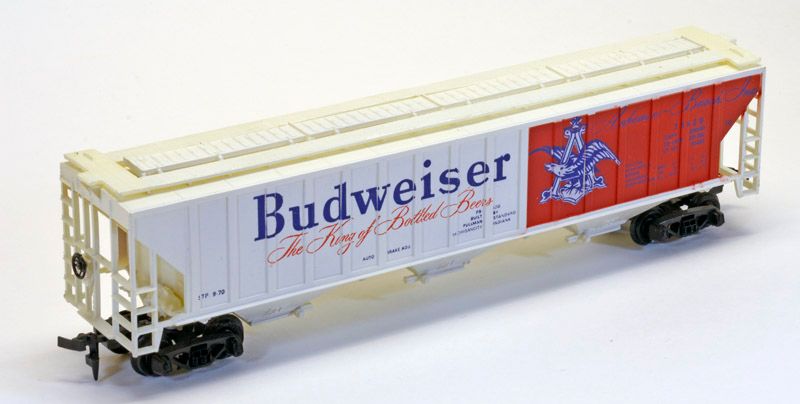 No. 359-A -1973 Release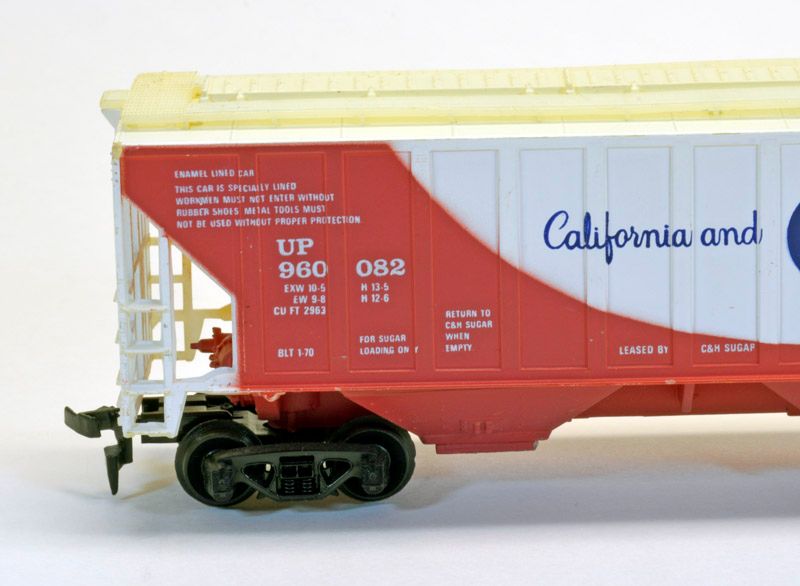 No. 359-E -1973 Release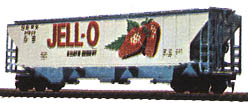 No. 359-F -1974 Release


Covered Hopper
Planters
No. 359-C -1973 Release
Covered Hopper
Tide
TYCO displays two cars in the introductory group of Covered Hoppers that appear to have never made beyond a 1973-74 catalog appearance. Both Tide and Arm & Hammer examples are not known to exist as regular production models.
Arriving a year following TYCO's introduction of its 54-foot ACF prototype Center Flow Hopper is a Covered Hopper car release. TYCO's Covered Hopper carries the model series number 359 and first appears in the 1973-74 catalog. A collection of six paint schemes are displayed and the 1973 retail was $3.50. Of the six illustrated, Arm & Hammer and Tide examples are not known to have been produced for regular release.

The car remained a standard offering for TYCO for many years, available in many "billboard" schemes. For its 1974 appearance, Ajax and Jello-O examples replace Arm & Hammer and Tide cars. The model has a $2.50 retail in 1974's catalog. TYCO's Budweiser and C&H Sugar cars are gone by 1975. The final appearance in TYCO's annual product catalogs for this model is 1981. The Boraxo and Planters examples survive longest in TYCO's catalog with the two being the only illustrated Covered Hopper offerings presented from the late 1970s to 1981.

IHC Hobby issued this same Covered Hopper tooling in its own line of products around 2000. This has marked the most recent appearance for this 1973 TYCO car.

The prototype for TYCO's model is Pullman-Standard's 4740 cubic foot covered hopper. Athearn's model was introduced in 1971 and appears to have provided inspiration for TYCO's example.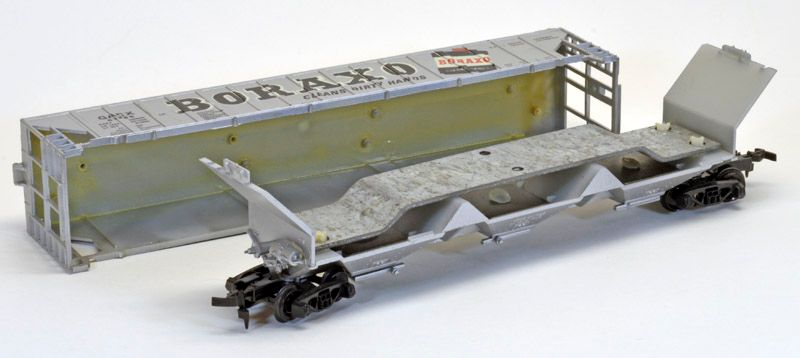 A goal for manufacturer's like TYCO for ready to run basic freight car offerings is doubtless the desire to limit the number of parts for any single release. In this respect, TYCO's Covered Hopper is a more expense and complicated item in comparison to the 40-foot Hopper or 50-foot Plug Door Box Car. The upper shell includes separately applied running boards and loading hatches, plus brake wheel. The underframe has not one, but four weights. A main weight is placed over the length of the inside of the model, plus small square weights are installed in each bay. The ends are separate pieces attached to the underframe. Three separate bay doors are attached to the bottom of the model, plus three brake and air detail parts are present on the B-end of the car. In all, a part count of 17 pieces, plus trucks and couplers make up this car. This makes TYCO's Covered Hopper among its more intricate freight car offerings.