Old Time Reefer
Budweiser
No. 370-C -1978 Release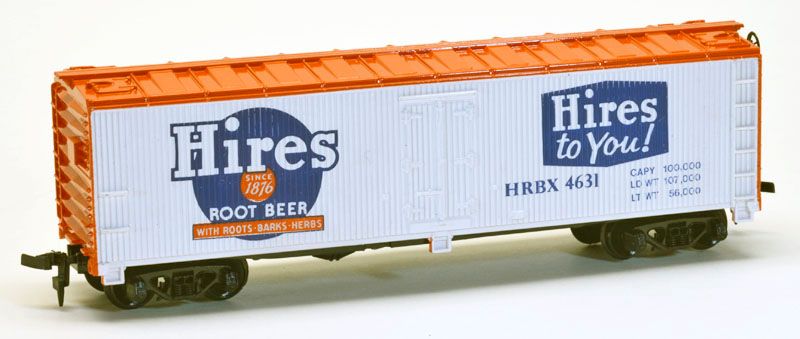 Old Time Reefer
Hires Root Beer
No. 370-D -1978 Release
Old Time Reefer
Miller
No. 370-B -1978 Release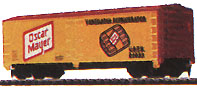 Old Time Reefer
Oscar Mayer
No. 370-A -1978 Release
TYCO utilized its 40-foot refrigerator car tooling under three different names. Originally the car carried 329-series stock numbering and was simply called a Reefer. TYCO releases the model as its Billboard Reefer with a 355-series numbering in the early 1970s. And finally, displayed here are the four examples of TYCO's Old-Time Reefer carrying 370-series numbers.

The Old-Time Reefer arrives first in the 1978 catalog with the full four roadname collection. By 1980, this series was reduced to a pair of roadnames and stayed that way through its final appearance in a TYCO catalog in 1982. The survivor names were Hires Root Beer and Oscar Mayer, both beer names (Budweiser and Miller) appear only in 1978 and 1979 catalogs.

All examples ever seen for TYCO's Old-Time Reefer have featured filled-in or solid stirrup steps. The shell is a single piece tooling with a separately applied brake wheel. Plastic underframe with talgo X2F couplers were standard issue. This tooling would return in 1989 with revisions under Mantua's second generation (1978-2001) collection and remain available until 2000.