Brown Box Era HO-Scale Trains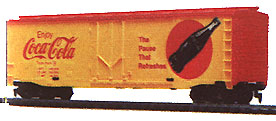 Old-Time 50' Box Car
Coca-Cola
No. 374-B -1979 Release
One of three Coca-Cola lettering freight car examples in the TYCO line is this Old-Time Box Car entry. TYCO also offered red with white lettering Coca-Cola 40' Tank Car and 62' Triple Dome Tank Car models. The Coca-Cola Old-Time Box Car only appears in TYCO's 1979 catalog.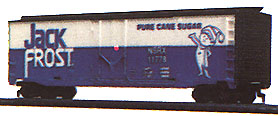 Old-Time 50' Box Car
Jack Frost
No. 374-C -1979 Release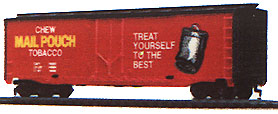 Old-Time 50' Box Car
Mail Pouch Tobacco
No. 374-A -1979 Release
The Mail Pouch Tobacco Old-Time Box Car is one example from this series that did service both as a separate piece in the rolling stock line and was included in select Chattanooga train sets.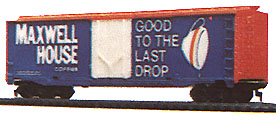 Old-Time 50' Box Car
Maxwell House
No. 374-D -1979 Release
Found only in 1979's catalog, the Old-Time Box Car carried model number 374. The car is the same 50' plug-door box car that TYCO had offered for years. This car in its most general form is a 339-series model called simply 50' Box Car. Labeled a Billboard Box, it becomes a 365-series model. It is a 362-series model for Bicenntenial Box Cars; 363-series for Commemorative State Box Cars; and even further divided into the 364 series for one entry, the TYCO 50th Anniversary Box Car.