F9A Diesel Locomotive
Amtrak
No. 3300-010 -1980 Release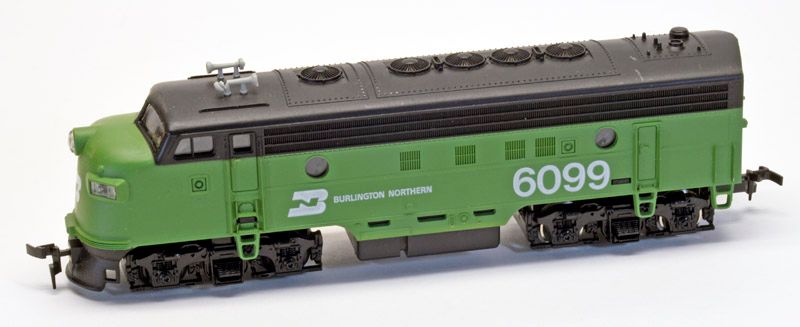 F9A Diesel Locomotive
Burlington Northern
No. 3300-008 -1980 Release
F9A Diesel Locomotive
Canadian National
No. 3300-036 -1980 Release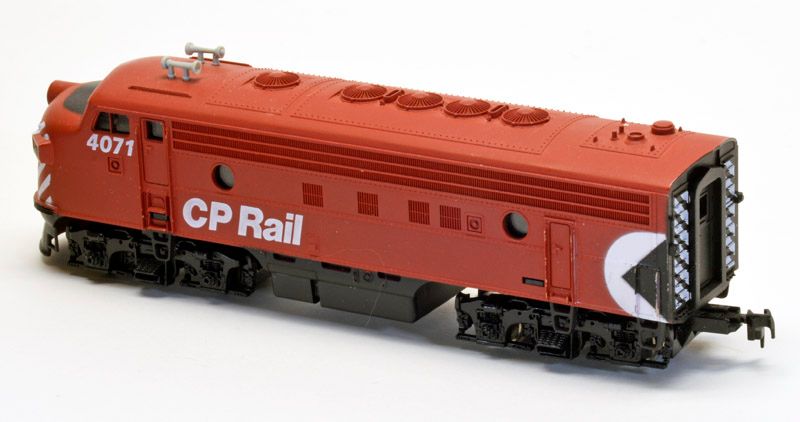 F9A Diesel Locomotive
CP Rail
No. 3300-012 -1980 Release
F9A Diesel Locomotive
Pennsylvania Railroad
No.3300-002 -1980 Release
F9A Diesel Locomotive
Santa Fe
No. 3300-001 -1980 Release

As with all Pemco's diesel locomotives, there are four decorated versions of its HO-scale F9 model offered.
The Pemco catalog shows an F9 dressed in Amtrak's "Phase I" scheme. This is the only Pemco F9 model which I have not seen and do not own.
No Undecorated F9 is listed in Pemco's catalog or price listing. I have seen samples of SD-35 and Century 430 models that are new in box and labeled Undecorated, so it is possible that an F9 may also exist in Undecorated form.
As happened often with EMD's F-units in model labeling, Pemco mistakenly is calling its offering an F9. The side louvers and dynamic brake fan suggest an F7.

Pemco's F9 diesel model weighs in a 10 ounces and includes a full length plastic underframe. The drive motor resides over the front truck. Only the front truck is powered and includes one metal wheel per axle to collect power from one side of the track. The rear truck also has only one metal wheel per axle, on the opposite side from the front truck, and connects and completes the circuit of electricity between model and rails. Traction tires are provided for the plastic wheels on both front axles. Two locating posts or pins are present down each side of the underframe that connect to secure the shell by inserting through open rectangular slots on the body. One slot is is between the handrails heading up to the cab, the other is just below the rear porthold and back access door. The front coupler is body mounted to the frame, while the rear coupler is talgo-equipped to the rear truck.

Below is the information sheet Pemco provided with its F9 diesel model. you may click on either page to open a larger version for optimal viewing.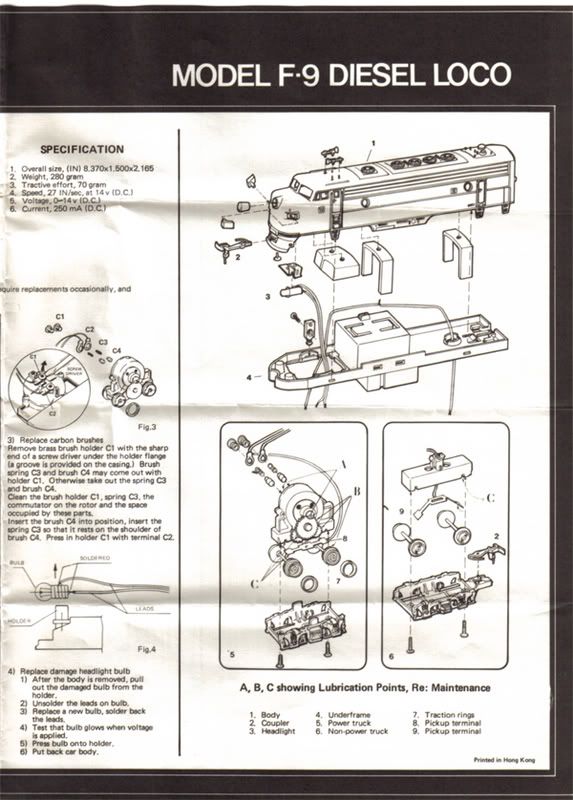 Though an F-unit is a very common and typical loco to find in anyone's product line, the Pemco model does sport unique attributes. While Pemco's F40PH appears to be cloned from Life-Like's model and the Roco-produced Atlas SD35 looks to have been the donor for the Pemco model's design, the F9 is unique tool & die work.

If there is an inspriation for Pemco's F9, it appears to the Roco-produced Atlas FP7 model from 1976. Look at the nose and pilot, the steps and cast-on handrails, as well as numberboards. Though all could be simply chance resemblence, this F9A does seem to favor the design style found on the previously mentioned FP7 model.

The Pemco F9A has never resurfaced from any other manufacturer and has not been knocked-off by anyone else. As with the other Pemco diesels, Pemco reporting marks on the bottom include the company name, model type and stock number, and country of origin