F40PH Diesel
Amtrak
No. 3301-010 -1980 Release
There appears to be only this one production example of the Pemco Amtrak F40PH. The back of Pemco boxes and the company's one known catalog display what appears to be the 1970's Life-Like F40PH decorated with Amtrak's Phase II paint. Pemco's example uses one of the only schemes, Phase I, to never have been applied to an actual Amtrak F40PH.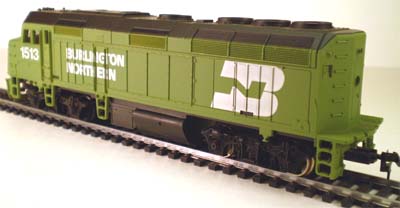 F40PH Diesel
Burlington Northern
No. 3301-008 -1980 Release
F40PH Diesel
Santa Fe
No. 3301-001 -1980 Release
No examples have surfaced that I've seen to date for a Pemco F40PH in Santa Fe paint.
F40PH Diesel
Union Pacific
No. 3301-011 -1980 Release
To date I have not been able to locate a Pemco Union Pacific F40PH model and can not comment on its specifics, nor confirm that it was ever released.

Reviewing the Pemco shell, one would note it as a close relative to the Life-Like F40PH tooling. The design of the front and rear pilots, the strobe lights and details above the cab on the engine's roofline, the two tab slots cut into the side of the unit to attach the underframe, as well as the underframe carrying the fuel tanks all mimick Life-Like's tool and die work. You could assume Life-Like's F40PH was the "inspiration" for Pemco's shell.
As with other Pemco clones, the F40PH is not an exact clone of Life-Like's unit. Pemco's model features an odd pair of the running lights located on the lower portion of the units nose, seen in the above head on shot of the F40PH. These running lights are not found on Life-Like's shell. Another interesting addition found only on Pemco's shell is treadwalk on the rear platform. Generally, a single piece shell does not include treadwalk due to the difficultly in casting such on a one piece shell.
The drive unit is typical of those found on Pemco offerings. One truck is powered by a sidewinder pancake motor located above the wheels. The bottom of the fuel tank reads "F40 DIESEL LOCO NO.3301 PEMCO MADE IN HONG KONG." Both trucks feature talgo couplers.
Pemco's instruction sheet refers to this unit as an "FP-40." The sticker on the box of my BN F40 also claims the unit is an "FP-40." Pemco's catalog does correctly refer to the unit as an "F40 PH."
Undecorated examples were produced by Pemco for its Alco 430 and SD-35 models and could possibly exist too for the F40PH, but have not been found to date.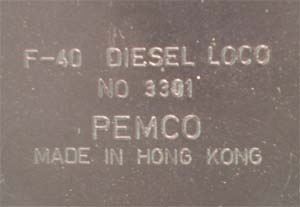 Below is the paperwork included in Pemco's F40PH offering. Click on either image for a larger version of the page...