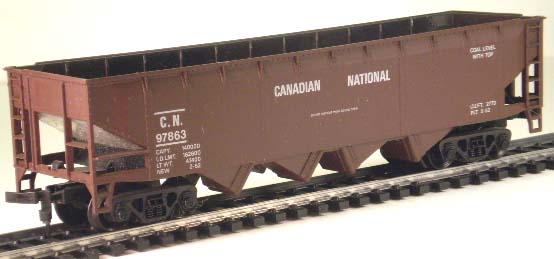 40ft. Hopper Car
Canadian National

40ft. Hopper Car
Illinois Central
No. 3405-020
Pemco's catalog lists this model as being Illinois Central, however production examples viewed have all been lettered for the 1972 merged IC-GM&O -Illinois Central Gulf.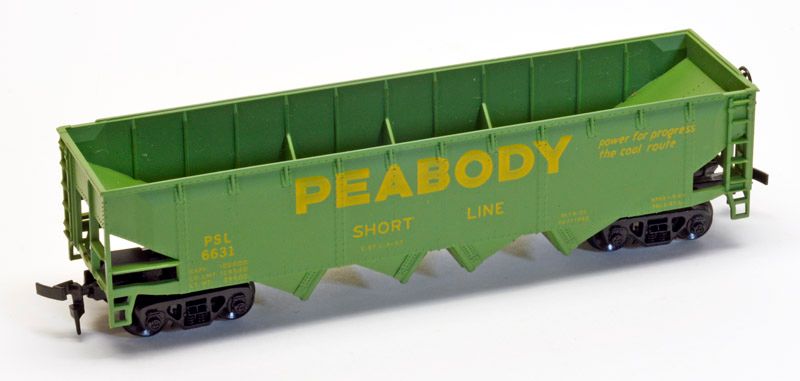 40ft. Hopper Car
Peabody
No. 3405-038
40ft. Hopper Car
Rio Grande
No. 3405-018

40ft. Hopper Car
Union Pacific
No. 3405-011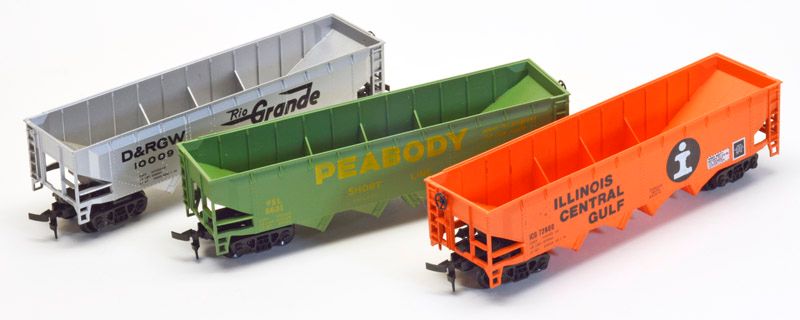 Pemco's 40-foot offset side open hopper model is very well represented car in the HO-scale market. You have to look to find a manufacturer that did not offer a version of this four bay hopper. Comparing tooling between Pemco's shell and those issued by Athearn, Bachmann, Roco (AHM, ATT, and others), and TYCO show unique attributes among each and similarities among all. General design follows a similar approach. All placed two square metal weights under the ends of the hopper shell and included a spine underframe running the length of the model between the unloading bays. Brake details are presented on one end of the frame and should match up to the B-end or brake end of the model that features a separately applied brake wheel on the hopper shell. Pemco's model includes raw unpainted metal weights and plastic trucks with talgo X2F couplers snap into the underframe. Down the center beam underframe you'll find identification markings reading "Pemco" and "Made in Hong Kong."

This model is featured in Pemco's 1980 color product catalog with four roadnames (UP, Rio Grande, IC, and Peabody), all were produced. Rivet Counters will enjoy the addition of "ACF Center Flow" labeling on the silver Rio Grande release. The model is naturally nowhere near the ACF Center Flow covered hopper prototype. In addition, Canadian Aurora boxed cousins present at least one addition roadname: Canadian National.