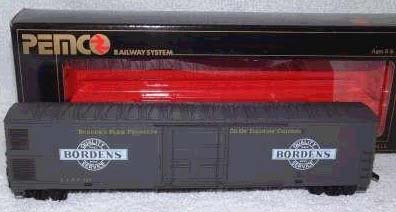 60-foot Reefer
Bordens
No. 3452-035 -1980 Release

60-foot Reefer
Canadian National
No. 3452-036 -1980 Release
60-foot Reefer
Coors
No. 3452-042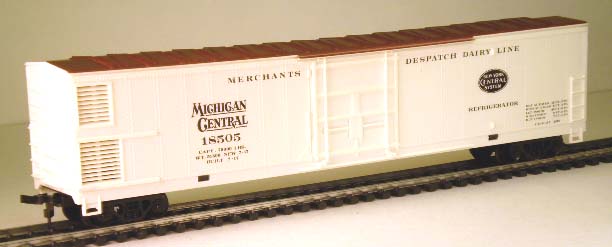 60-foot Reefer
New York Central -MDT
No. 3452-005 -1980 Release
As with most Pemco rolling stock, there are four decorated versions of its 60-foot Reefer.
To date, I have not seen the listed Coors model and it may not exist. A TrainWorld price sheet, from the early 1980s, for Pemco items virtually mirrors Pemco's catalog listing, but TrainWorld's list does not include Coors among available 60-foot Reefer selections.
This is one of a few unique examples among rolling stock offered in Pemco's line. I have not been able to locate a prototype for this 60-foot Reefer model, but it is a nicely designed car. The closest prototype appears to possibly be a 60ft. insulated plug-door box car. Pemco's model does have refrigeration equipment cast into one of the car ends and ventilation screens appear on one side of the car.