Caboose
Amtrak
No. 3404-010
To date, I have not encountered an example of the Pemco Amtrak Caboose and can not comment on its design and have no image of it to offer.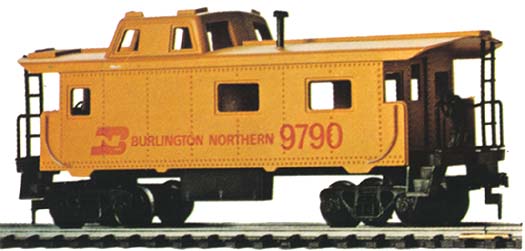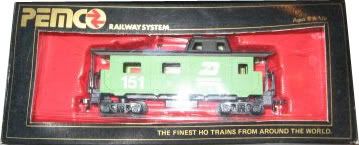 Caboose
Burlington Northern
No. 3404-008
An interesting scheme for a BN caboose adorns this Pemco example. The yellow Burlington Northern Caboose is the catalog image example used by Pemco and does not reflect the actual production run models. Examples viewed for this Pemco caboose are typical BN colors of green with black roof. The production run model also carries roadnumber 151 and not 9790 as the catalog example.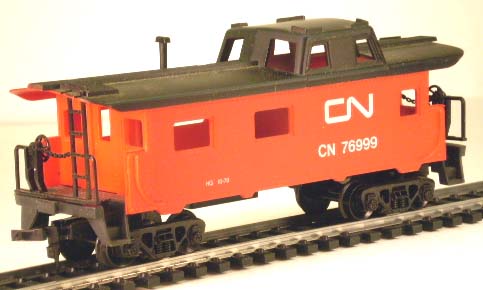 Caboose
Canadian National
This red with black roof Pemco-made Canadian National Caboose was part of the Aurora offerings. The CN roadname is not among the list of caboose offerings found in the Pemco catalog.
Caboose
CP Rail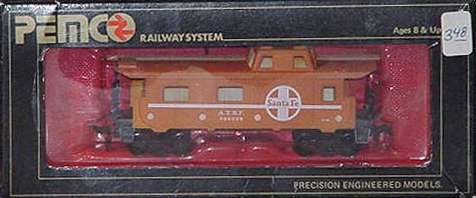 Caboose
Santa Fe
No. 3404-001
Interestingly, my example of the Pemco Santa Fe Caboose does also include the tinted window material as seen in the picture above. Other examples of the Pemco Caboose I've obtained do not feature window material. Perhaps Santa Fe's union struck a deal for window material from Pemco that the other roads didn't get?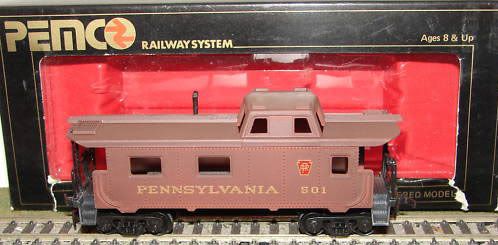 Caboose
Pennsylvania Railroad
No. 3404-002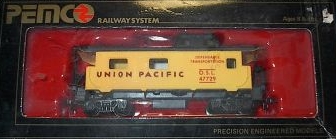 Caboose
Union Pacific
No. 3404-011
Carrying Union Pacific's O.S.L.-Oregon Short Line reporting marks is this uncataloged Pemco caboose offering.
The Pemco streamlined cupola 36ft. Caboose shares many design elements with the famous Mantua-Tyco caboose tooling. Quite likely the Tyco shell served as Pemco's inspiration, as both shells are nearly identical. Pemco examples do however include the company's name and Hong Kong origin marks raised on the model's underframe. The origin mark, seen below, is very similar to that found on the bottom of the AHM streamline cupola Caboose model. See my AHM site for further information.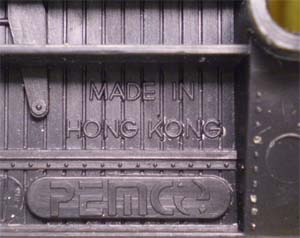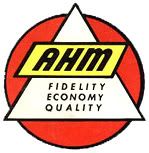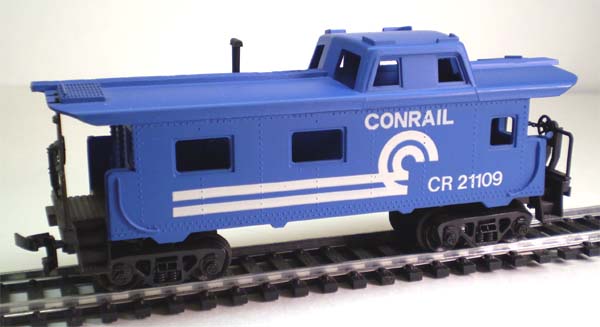 The above AHM Conrail Caboose shares what appears to be the same tooling used for the Pemco release. You may click on the image of the AHM Conrail example and you'll be taken to my AHM site and further information.