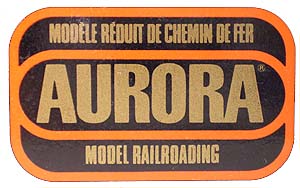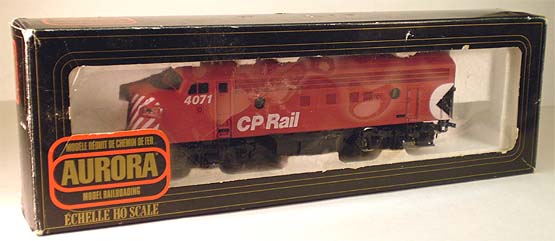 Featuring bilingual (English/French) information and found in packages of similar design to the black and gold Pemco products were the Aurora HO-scale model trains.
I can not confirm any U.S. advertising or marketing for Aurora's HO-scale model trains. They appear to be identical to the Pemco line with an emphasis on Canadian roadname offerings.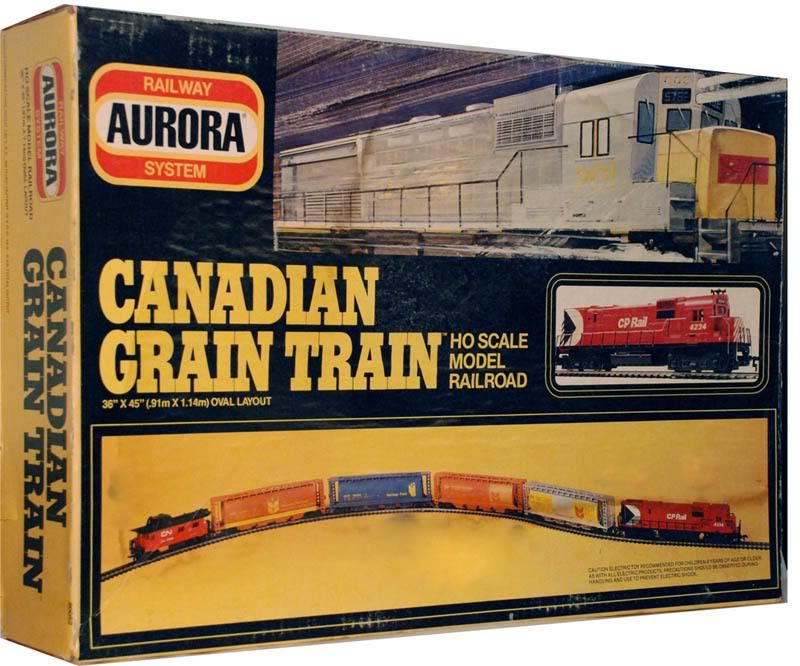 Aurora Train Set
Canadian Grain Train
No. 80052
This train set featured the Alco Century 430 in CP Rail paint with four Cylindrical Hoppers of various Canadian paint and a CN Caboose. The Alco and Caboose are standard Pemco tooling. The Cylindircal Hoppers are Model Power items and came in the train set packaged in standard Model Power boxes of the time. A rather curious and interesting mix. The train set included Pemco's track in a 36" x 45" oval track plan, plus power pack.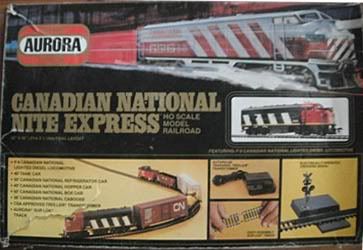 Aurora Train Set
Canadian National Nite Express
The late 1970s saw Aurora offer its Rail Masters line of N-scale trains. The compmlete railroad in a box concept was fairly short-lived and produced only two sets and some individually offered rolling stock. See the 1977 Rail Masters introductory catalog below. You may click on the images to open a larger version of each for optimal viewing.
Aurora's efforts in HO-scale most famously were in slot cars. Once called "Model Motoring" by Aurora, the slot car line is what most people think of with respect to this company.
Aurora was also a pioneer in the 1/160th N-scale model railroad world, thanks to the Postage Stamp Trains line. The Aurora Postage Stamp Trains helped popularize the then-new N-scale size model trains in the late 1960s. The Postage Stamp line did not ultimately prove a success long term for Aurora and was gone well before the debut of the HO-scale line.
Below you'll see examples of Aurora's Postage Stamp Trains collection. Aurora joined the N-scale movement as it hit high gear in 1968.