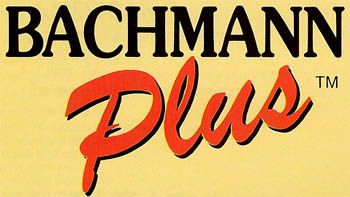 GE B23-7 Diesel Locomotive
Chessie System
No. 31108 C&O #8238 -1st Bachmann Plus Release 1992
No. 31109 C&O #8256 -1st Bachmann Plus Release 1992

GE B23-7 Diesel Locomotive
Conrail
No. 31106 CR #1991 -1st Bachmann Plus Release 1992
No. 31107 CR #2001 -1st Bachmann Plus Release 1992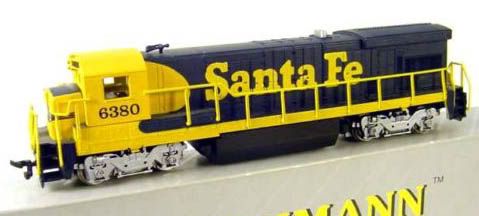 GE B23-7 Diesel Locomotive
Santa Fe
No. 31104 ATSF #6380 -1st Bachmann Plus Release 1992
No. 31105 ATSF #6410 -1st Bachmann Plus Release 1992
GE B23-7 Diesel Locomotive
Union Pacific
No. 31102 UP #124 -1st Bachmann Plus Release 1992
No. 31103 UP #156 -1st Bachmann Plus Release 1992
GE B23-7 Diesel Locomotive
Undecorated
No. 31101 -1st Bachmann Plus Release 1992
Bachmann's 1992 product catalog includes the introduction of the company's Bachmann Plus line. Five steam engines (Consolidation 2-8-0; N&W J 4-8-4; NYC Niagra 4-8-4; Santa Fe Northern 4-8-4; and GS4 4-8-4) were originally listed in '92 as new Bachmann Plus releases. All had previously been part of the company's line. The new tooling pieces in 1992 for the Bachmann Plus introduction included the F7-A and F7-B and this General Electric B23-7 diesel.

The Bachmann Plus B23-7 group listed in 1992 included four roadnames (Conrail; Chessie; Union Pacific; and Santa Fe), plus an Undecorated example. Two roadnumbers were offered with each roadname and the retail in '92 was $39.95.

For 1998, Bachmann's annual product catalog presents two GE boats presented as "NEW 1998" and labeled B23/30-7. Santa Fe and CSX are the survivors in the individual loco offerings with a single roadnumber each: Santa Fe 6410 (#11104) and CSX 5542 (#11115). In Train Sets for 1998, Bachmann has a premium Silver Series offering, The Trail Blazer. The Trail Blazer set included a B23-7 and had four roadname variations (Conrail; UP; Santa Fe; and Chessie System).