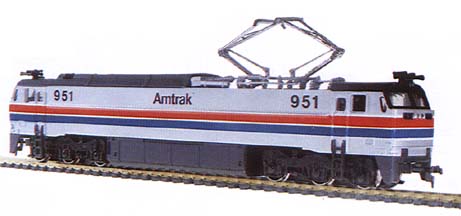 E60CP Electric Locomotive
Amtrak
No. 750 -1978 Release
No. 41-0655-05 -1982 Release
New for 1978, the dual-ended E60CP Electric arrives in Bachmann's HO-Scale line joining the also new that year E60CF Electric. The Amtrak example found in the 1978 catalog is numbered 968 and appears only in the Locomotives section and is not included in a train set that year. The model used also appears perhaps to be the American GK example carrying roadnumber 968 and not the actual Bachmann production run E60CP which was number 951. The Amtrak paint used in the firm's Phase II scheme with equal sized red and blue bands down the middle of the unit. The retail for the E60CP is $22 in 1978's catalog. The Amtrak E60CP expands its presence in the 1979 catalog by powering Bachmann's The Comet (No.265) train set, in addition to appearing in the Locomotives section. Again in '79, the E60CP found in the Locomotives section seems to be the American GK model, but the production run Bachmann is found pulling Amfleet Coaches with The Comet train set. Retail for the E60CP is $25 in the 1979 catalog. The American GK E60CP and E60CF models hit the market in mid 1977. The prototype arrives for Amtrak service beginning in 1975.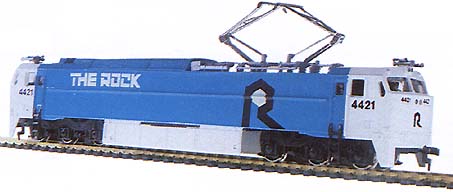 E60CP Electric Locomotive
Rock Island
No. 751 -1978
While Amtrak did operate the E60CP, the Rock Island didn't pull any freight and/or passenger under wires and the Bachmann blue and white The Rock example is an interesting piece of fantasy painting. Not pictured in 1978 as the E60CP debuts, Rock Island is however listed as a roadname availability for this model that year. The Amtrak example rides on into the '80s and beyond, but The Rock example is last found in the 1980 product catalog.
Bachmann's original E60CP Electrics were single truck powered with traction tires. Though not available with the HO-Scale example during the late 1970s, by the '80s Bachmann did add an N-Scale E60CP to its line.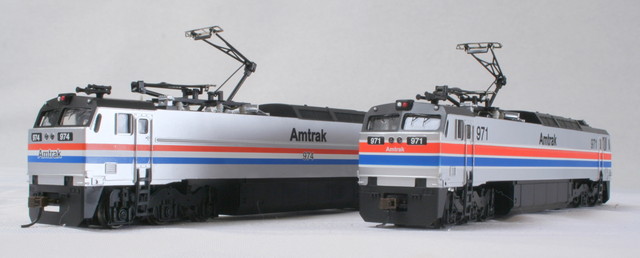 A new Bachmann E60CP was announced at the summer 2007 NMRA National Show in Detroit for late '07 release. The new E60CP includes Bachmann's EZ-DCC installed at the factory and a smooth running all wheel driven mechanism. Comparing the two models, the new E60CP tooling includes full pilots and metal pantagraph improving on the original example.
Bachmann image from its website.