Athearn EMD GP35 Diesel Locomotive
Chessie System
No. 4208 -Powered
No. 4228 -Dummy
The Athearn GP35 wearing Chessie System colors carries B&O 3547 reporting marks. The number and ownership are accurate, however I can't confirm if this GP35 made from B&O blue into Chessie paint at any time. It appears the 3547 left the roster by the mid-'80s and CSX days. The image displayed below shows what appears to be the 3547 stored or maybe in a dead line. This image is from the Chessie Photo Archive, you may click on the picture to be taken to this site and additional pictures.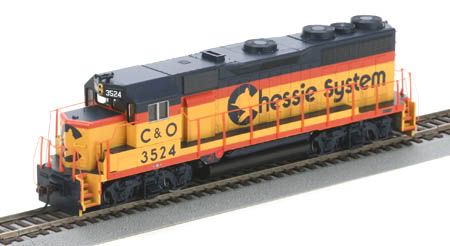 Athearn Ready To Roll EMD GP35 Diesel Locomotive
Chessie System
No. 94209 B&O #3514 -2006 Release
No. 94210 B&O #3545 -2006 Release
No. 94157 C&O #3524 -2008 Release
No. 94158 C&O #3538 -2008 Release
A heathly group of GP35 diesels were included on the Chessie roster. The B&O supplied just over 40 examples, the C&O had just under 40, and the Western Maryland brought five GP35 models. The Athearn Ready To Roll GP35, based on the Rail Power shell, has had four Chessie System releases. Seen above is the prototype for one of Athearn's Chessie GP35 models. All four of the numbers and ownership designations are accurate on the Athearn R-T-R examples.