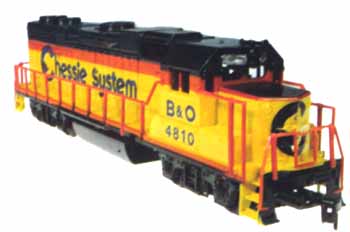 Life-Like EMD GP38-2 Diesel Locomotive
Chessie System
No.
Bachmann EMD GP38-2 Diesel Locomotive
Chessie System
No. 61105 B&O #4812 -with DCC
No. 61705 B&O #4814
Chessie System did not roster any EMD GP38-2 diesels. Baltimore & Ohio received twenty GP38 diesels from EMD in 1970 that carried roadnumbers 4800-4819. It may be that the HO-scale Dash-2 examples are inspired by this group of B&O GP38s.
Bachmann's GP38-2 has been offered in the company's EZ-DCC line with roadnumber 4812; and as a standard DC model with roadnumber 4814. Both Bachmann's GP38-2 diesels carried B&O ownership markings.