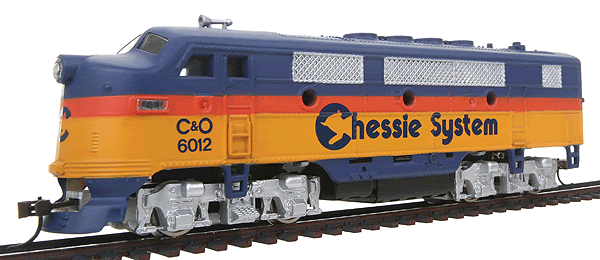 Model Power F2-A
Chessie System
No. 96802
Before you get too harsh with this Model Power Chessis F2-A, it does sport one feature that has a prototypical basis. In Jerry Doyle's book, "Chessie System Diesel Locomotives," the author notes that Chessie's 4101-4112 GP40-2 diesels received silver trucks as an experiment. So, our Model Power F2-A may be following this experimental practice perhaps. Below is an example of a silver trucked Chessie diesel.
Model Power F2-B Diesel Locomotive
Chessie System
No. 6852
Cox EMD F3-A Diesel Locomotive
Chessie System
No. 6110-9 B&O #1937 -1974 Release
Cox delivered its line of Hong Kong-made HO-scale model trains beginning in 1974 and continued through 1977. Chessie System paint was applied to the Cox EMD F3-A and GP9 diesels. The Western Maryland rostered 28 EMD F7-A units in the mid-'70s and over a dozen F7-B's, but none made it into Chessie System colors.
Cox gave B&O ownership credit for its F3-A model and it carried roadnumber 1937.


Life-Like F7-A and F7-B
Chessie System
TYCO F9-A
Chessie System
No. 224-03 -1977 Release


Bachmann F9-A Diesel Locomotive
Chessie System
No.
This Bachmann Chessie F9-A from the late '80s/early '90s gets the nod for poorest attempt at reproducing the road's famous paint scheme. Bachmann went through a period of minimalist paint jobs for some models during the late '80s and early '90s. In addition to this two-tone Chessie F9-A, Bachmann also offered a red and gray semi-warbonnet Santa Fe F9-A and a modestly painted Union Pacific F9-A.