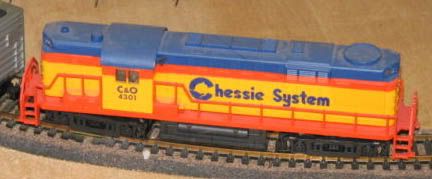 Model Power RS-11 Diesel Locomotive
Chessie System
No. 6697 -1977 Release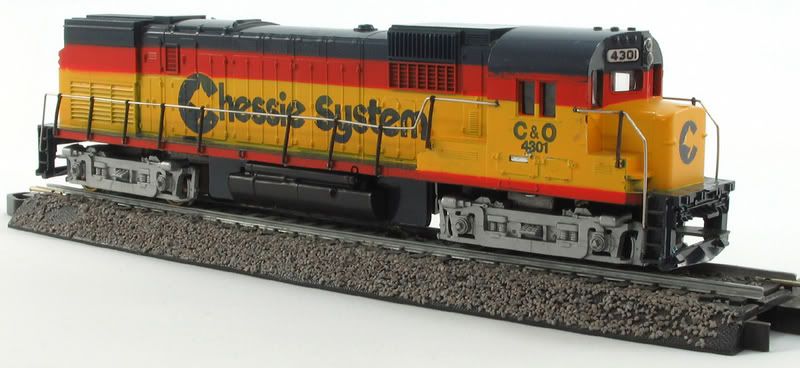 TYCO Century 430 Diesel Locomotive
Chessie System
No. 235-K -1974 Release
No. 235-03 -1975 Release
TYCO Century 630 Diesel Locomotive
Chessie System
No. 243-03 -1975 Release
No. 250-03 -1977 Release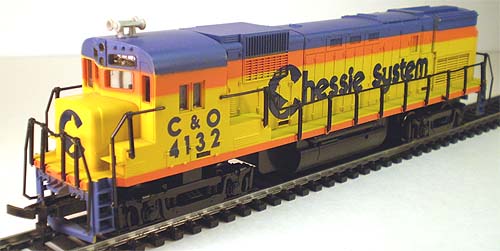 Pemco Century 430 Diesel Locomotive
Chessie System
No. 3302-009 -1980 Release
While their is ample evidence in HO-scale for its existence, Chessie System never rostered an Alco Century. TYCO was first to makes it case for a Chessie System Alco Century with its 430 and soon after released a Super 630 in the '70s. In 1980, Pemco followed TYCO's lead and offered its Alco Century 430 in Chessie colors. And AHM debated an Alco Century 424 long enough to give it a stock number and include on box labels around 1981, but to my knowledge never had any Chessie System C424 models produced.
While they certainly made for some interesting models, the only ALCO diesels dressed in Chessie System colors were a trio of 1000-horsepower S2 switchers. All Baltimore & Ohio heritage, the S2's were retired from the roster by 1979.
The Western Maryland rostered a pair of Alco S6's and nearly twenty Alco RS2/RS3's, when they entered the Chessie System. Though none of the WM Alco diesels were painted Chessie.