RS-1 Diesel Locomotive
Amtrak
No. 8120 -1988 Release

RS-1 Diesel Locomotive
Ann Arbor
No. 8118 AA #21 -1988 Release
RS-1 Diesel Locomotive
Baltimore & Ohio
No. 8111 -1987 Release

RS-1 Diesel Locomotive
Central of New Jersey
No. 8122 CNJ #1203 -1988 Release

RS-1 Diesel Locomotive
Chicago & North Western
No. 8110 -1987 Release
RS-1 Diesel Locomotive
Great Northern
No. 8123 -1989 Release
RS-1 Diesel Locomotive
Gulf Mobile & Ohio
No. 8113 -1987 Release

RS-1 Diesel Locomotive
Kansas City Southern
No. 8114 KCS #1112 -1988 Release
RS-1 Diesel Locomotive
The Milwaukee Road
No. 8124 MILW #1678 -1989 Release
RS-1 Diesel Locomotive
New Haven
No. 8112 -1987 Release
RS-1 Diesel Locomotive
New York Central
No. 8108 NYC #9900 -1987 Release
No. 8109 NYC #8109 -1987 Release
RS-1 Diesel Locomotive
New York Central -Lightning Stripe scheme
No. 8117 NYC #8105 -1988 Release
RS-1 Diesel Locomotive
Pennsylvania Railroad
No. 8105 PRR #5906 -1987 Release
No. 8106 PRR #9914 -1987 Release
RS-1 Diesel Locomotive
Rock Island
No. 8102 CRIP #747

RS-1 Diesel Locomotive
Rutland
No. 8119 RUT #402 -1988 Release

RS-1 Diesel Locomotive
Santa Fe -blue and yellow scheme
No. 8103 ATSF #2396 Freight Blue and Yellow -1987 Release
No. 8104 ATSF #2394 Freight Blue and Yellow -1987 Release
RS-1 Diesel Locomotive
Santa Fe -Zebra scheme
No. 8116 ATSF #2399 -1988 Release
RS-1 Diesel Locomotive
Santa Fe -Zebra scheme
No. 8126 ATSF #2395 -1989 Release
No. 8127 ATSF #2396 -1989 Release

RS-1 Diesel Locomotive
Spokane Portland & Seattle
No. 8115 SP&S #50 -1988 Release
RS-1 Diesel Locomotive
Susquehanna
No. 8125 NYS&W #230 -1989 Release
RS-1 Diesel Locomotive
Soo Line
No. 8107 -1987 Release

RS-1 Diesel Locomotive
Southern Railway
No. 8121 A&EC #405 -1988 Release
RS-1 Diesel Locomotive
Undecorated -Friction Trucks
No. 8100 -1987 Release
RS-1 Diesel Locomotive
Undecorated -Roller Bearing Trucks
No. 8101 -1987 Release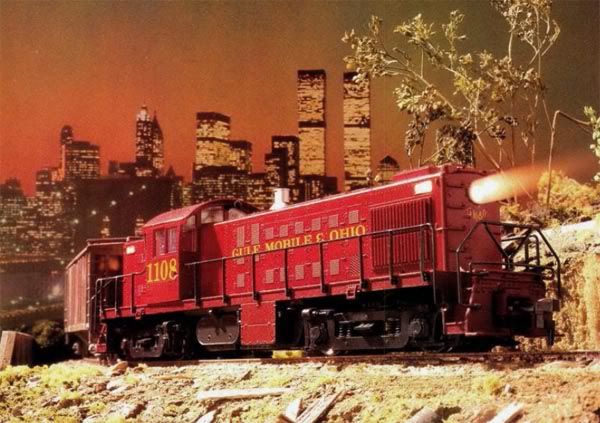 Atlas introduces the Kato-made ALCO RS1 in late 1987. The Atlas RS1 is reviewed by Model Railroading magazine in its Performance Test Report in the November 1987 issue. The first release included the very interesting image of a Gulf Mobile & Ohio with New York City's skyline as a backdrop. Atlas does point out the use of a "special modeler's license in creating this non-prototypical scene. The initial collection of RS1 diesels included: Rock Island, Santa Fe in freight blue and yellow with two roadnumbers, Pennsy with two roadnumbers, Soo Line, New York Central with two roadnumbers, Chicago & North Western, Baltimore & Ohio, New Haven, and Gulf Mobile & Ohio. The issuing of multiple roadnumbers was a fairly new concept in '87, when this model hit the market.
Atlas proclaimed the first RS1 production was a quick sell out and early 1988 saw a second release: KCS, Spokane Portland & Seattle, Santa Fe in early Zebra Stripe scheme, NYC in black with Lightning Stripe, Ann Arbor, Rutland, Amtrak, Southern, Central of New Jersey and the two versions of Undecs.
A set of five RS1 models was part of the Atlas 1989 product line offerings: Great Northern, Milwaukee Road, Susquehanna in maroon & gray, more Santa Fe in Zebra scheme with two roadnumbers.