Century 425 Diesel
British Columbia Railway
No. 8040 BCR #805
No. 8041 BCR #812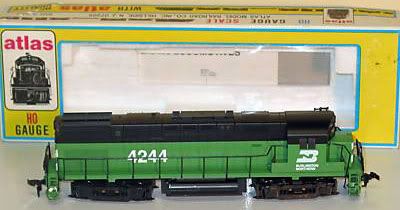 Century 425 Diesel
Burlington Northern
No. BN #4244 -1986 Release
Century 424 Phase II Diesel
Canadian National
No.8051
Century 425 Diesel
Chicago & North Western
No. 8033 CNW #403 -1986 Release

Century 425 Diesel
Conrail
No. 8037 CRR #2421 -1986 Release
Century 424 Phase I Diesel
Conrail
No. 8063 CRR #2491
No. 8064 CRR #2497
Century 424 Phase 1 Diesel
Delaware & Hudson (#451 -Solid Blue)
No.8059 -1989
Century 425 Diesel
Erie Lackawanna
No. 8034 EL #2457 -1986 Release
Century 424 Phase 1 Diesel
Erie Lackawanna (Early -Black/Yellow)
No.8057 -1989
Century 424 Phase 1 Diesel
Erie Lackawanna (Late -Maroon/Gray/Yellow)
No.8056 -1989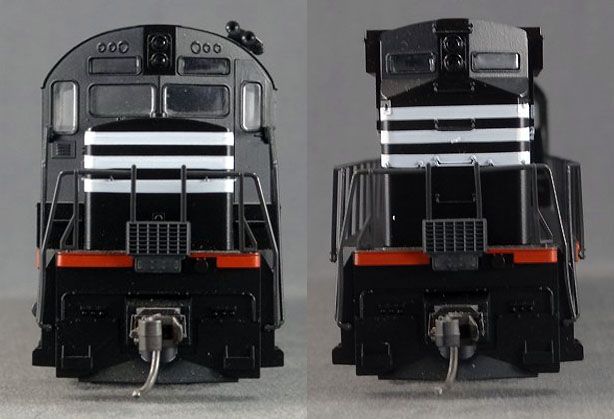 Century 425 Diesel
New Haven
No. 8038 #2553
No. 8039 #2557
Century 425 Diesel
Norfolk & Western
No.8036 Roadnumber 1003 -1986 Release
Century 425 Diesel
Norfolk & Western
No.8042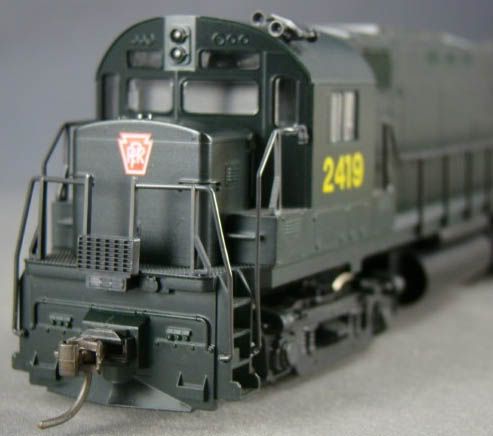 Century 425 Diesel
Pennsylvania
No. 8035 PRR #2419 -1986 Release
Century 424 Phase 1 Diesel
Pennyslvania
No. 8060 PRR #2415 -1989 Release
Century 424 Phase 1 Diesel
Reading (Yellow/Green)
No.8058 -1989
Century 425 Diesel
Spokane Portland & Seattle
No.8031 -1986
Century 424 Diesel
Undecorated
No.8050 -1986
Century 425 Diesel
Undecorated
No.8030 -1986
The summer of 1986 brings the Kato-produced Atlas U.S. release of the HO-scale Alco Century 424 and 425 models. The first release included Century 425's decorated for Erie Lackawanna; Burlington Northern; Conrail; Chicago & North Western; Norfolk & Western; Pennsylvania; and Spokane Portland & Seattle; plus Undecorated. The first run of 1986 Alco Century models included one 425 version and it was sold only in Undecorated examples.
The July '86 Model Railroader magazine Trade Topics column reviews the first offering of the Atlas Century 424/425 diesel models.
Atlas releases five Alco Century 424 models in 1989: Erie Lackawanna -Late (#8056); Erie Lackawanna -Early (#8057); Reading (#8058); Delaware & Hudson (#8059); and Pennsylvania (#8060). Model Railroader magazine reported in its January 1989 issue that this set of Alco Century 424's was the first time Atlas offered a Phase 1 bodystyle.