GP7 Diesel
Amtrak
No. 8224 AMT #760
No. 8225 AMT #762
GP7 Diesel with Dynamic Brakes
Bangor & Aroostook
No. 8226 BAR #562
No. 8227 BAR #570

GP7 Diesel with Dynamic Brakes
Canadian National
No. 8228 #1720
No. 8229 #1706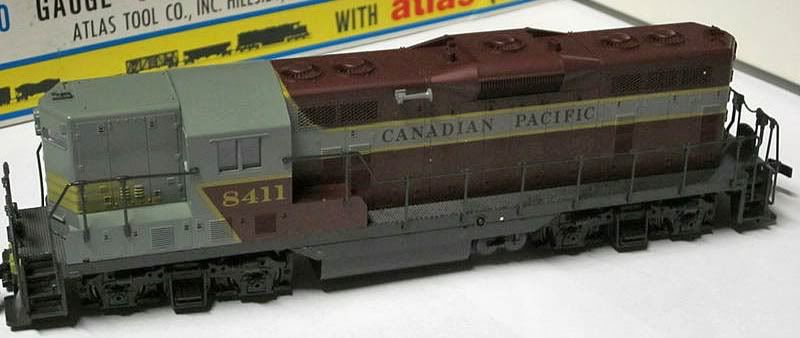 GP7 Diesel with Dynamic Brakes
Canadian Pacific
No. 8206 CP #8409 -1990 Release
No. 8207 CP #8411 -1990 Release
GP7 Diesel
Chicago, Burlington & Quincy
No. 8202 CB&Q #253 -1990 Release
No. 8203 CB&Q #265 -1990 Release

GP7 Diesel
Chicago & North Western
No. 8230 CNW #1518
No. 8231 CNW #1524

GP7 Diesel
Clinchfield
No. 8222 CRR #902 -1990 Release
No. 8223 CRR #913 w/Dynamic Brakes -1990 Release
GP7 Diesel
Erie
No. 8232 ERIE #1233
No. 8233 ERIE #1220 w/Dynamic Brakes
GP7 Diesel
Erie Lackwanna
No. 8210 EL #1217 -1990 Release
No. 8211 EL #1401 w/Dynamic Brakes -1990 Release
GP7 Diesel
Frisco
No. 8234 SLSF #573
No. 8235 SLSF #597
GP7 Diesel
Great Northern
No. 8236 GN #616
No. 8237 GN #632
GP7 Diesel
Illinois Central
No. 8238 IC #8851
GP7 Diesel
Louisville & Nashville
No. 8240 L&N #401
No. 8241 L&N #412
GP7 Diesel
New York Central
No. 8242 NYC #5709
No. 8243 NYC #5690
GP7 Diesel with Dynamic Brakes
Pennsylvania
No. 8212 PRR #8508 -1990 Release
No. 8213 PRR #8797 -1990 Release
GP7 Diesel with Dynamic Brakes
Rio Grande
No. 8208 DRGW #5100 -1990 Release
No. 8209 DRGW #5112 -1990 Release
GP7 Diesel
Rock Island
No. 8220 CRIP #1202 -1990 Release
No. 8221 CRIP #1300 -1990 Release
GP7 Diesel with Dynamic Brakes
Santa Fe
No. 8204 ATSF #2692 -1990 Release
No. 8205 ATSF #2752 -1990 Release
GP7 Diesel with Dynamic Brakes
Santa Fe
No. 8245 ATSF #2683
GP7 Diesel
Southern
No. 8214 SOU #2067 -1990 Release
No. 8215 SOU #2185 w/Dynamic Brakes -1990 Release
GP7 Diesel with Dynamic Brakes
Union Pacific
No. 8216 UP #703 -1990 Release
No. 8217 UP #718 -1990 Release
GP7 Diesel
Western Maryland
No. 8218 WM #21 -1990 Release
No. 8219 WM #23 -1990 Release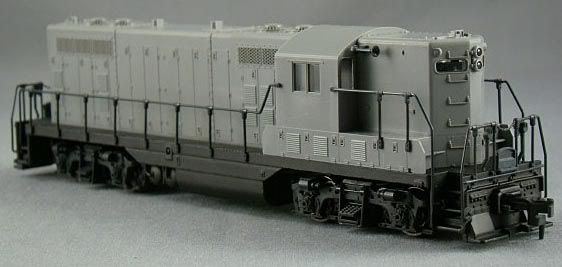 GP7 Diesel
Undecorated
No. 8200
GP7 Diesel with Dynamic Brakes
Undecorated
No. 8201
Early 1990 brings Atlas' introduction of its HO-scale EMD GP7 diesel. The model debuts at the 1989 Chicago Model Hobby Show. After spending the mid/late 1980s exploring ALCO's line, Atlas brings out its first HO-scale EMD prototype since the 1970s.
Atlas has offered multiple roadnumbers per roadname on a few select releases up to its GP7, but this is the first occasion of a product run that included multiple numbers for all roadnames. Though common today, it was a new concept in 1990. Atlas' GP7 was produced in two variations, with and without Dynamic Brakes.
This geep was the final loco made by Kato in Japan and sold by Atlas. Kato would enter the American HO-scale diesel market under its own name in 1991 with an SD-40 release.
A review of the first Atlas GP7 release may be found in the February 1990 Model Railroder. Jim Hediger's review notes, "The new Atlas unit is a perfect match to the overall dimensions of the prototype." The magazine pictures the Atlas GP7 decorated for Clinchfield #902.