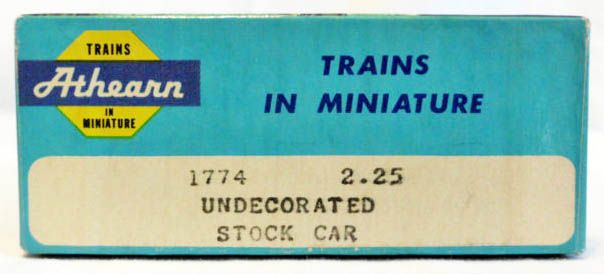 For the model railroad enthusiast, Athearn ranks among the most well known and respected names in the hobby. Athearn has a long history in the hobby and the company has seen numerous changes through the years.

In creating my other model train websites, documentation was scare and often unavailable or difficult to locate. Athearn has enjoyed at least two reference books, "Greenberg's Guide to Athearn Trains" and "Standard Guide to Athearn Model Trains," therefore research and serious documentation is available prior to my effort. Though past efforts exist in print, an Athearn site is among the most requested additions to my collection of model train history websites. My interest, coupled with the inquiries, has brought me to the creation of the following pages regarding Athearn.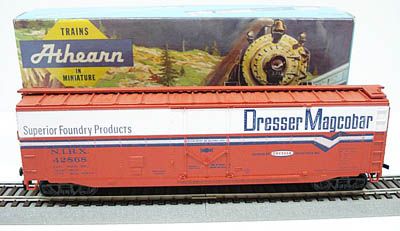 My goal is not to simply recycle material and information found elsewhere, but to focus upon an area of Athearn history and present it with illustrations and supporting text. Having grown up with Athearn kits in the 1970s, it is this period of the company's production that you'll find the most material and attention in this survey of Athearn. No information is presented here regarding Athearn's metal HO- and O-scale kits that pre-date the injection molded plastic kits of the mid-1950s. On the other end of the story, there is no information regarding Athearn's Genesis and Ready to Roll offerings of more modern times. In general, the menu here is the classic wide-body locos and blue box kits that were plentiful across hobby shop shelves beginnning in the late 1950s. Just what year was the Pickle Car first released? Which is older Athearn's Baldwin S-12 or SW1500 switcher model? What were the original road names offered for the GP35? This and more is presented and illustrated here in two sections. One section presents locomotives and the other section presents Athearn rolling stock.

This effort, as with my other sites, is an on-going and growing work. New pictures and information will added as I locate and learn. I hope you will enjoy your vist and invite you to return again in the future to see what's new.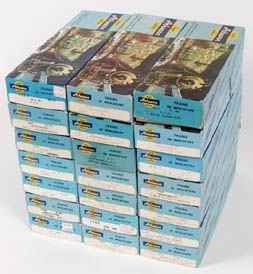 The pages on this website follow a format presenting each model with a picture, below the image is the name of the item, road name, and stock number, year of release, and road numbers issued.


A goal of this work is to present an online color image reference for the enjoyment of hobbyists and collectors. Odd variations and/or mistakes are not considered the focus. Additionally, special run for clubs or conventions are not covered here. Nor will you find listings and images for releases using Athearn items from companies like Bev-Bel, Rail Runner, or others. These mentioned situations are well beyond the scope of my effort here.
Please note that this site was created for use by those with an interest in HO-scale model trains and does not necessarily represent the current Athearn line available today. The author is not affiliated with, nor representing Athearn and/or Horizon Hobby in any way. This site is intended for your enjoyment and information only.
Images and information presented on this site comes from a variety of sources including magazines, internet, catalogs, visitor input, and the author's collection.