40' Steel Reefer
Bangor & Aroostock
No. 1615
40-foot Steel Reefer
Blatz
No. 245 Kit - 1957 Release
No. 345 RTR - 1957 Release
No. 1603 Kit -1962 Release

40-foot Steel Reefer
Canadian National
No. 246 -Kit 1957 Release
No. 346 - RTR 1957 Release
No. 1604 -Kit 1962 Release

40-foot Steel Reefer
Carnation
No. 244 Kit - 1957 Release
No. 344 RTR - 1957 Release
No. 1602 Kit - 1962 Release

40' Steel Reefer
Chicago, Burlington & Quincy
No. 1610
40-foot Steel Reefer
Pacific Fruti Express
No. 243 Kit - 1957 Release
No. 343 RTR - 1957 Release
No. 1601 Kit - 1962 Release
40' Steel Reefer
Railway Express Agency
No.1609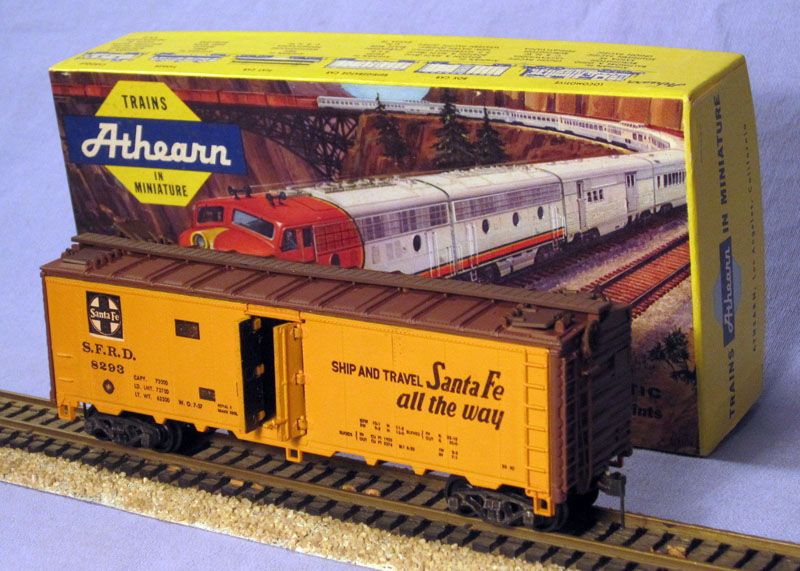 40-foot Steel Reefer
Santa Fe Chief
No. 247 - Kit 1957 Release
No. 347 - RTR 1957 Release
No. 1605 -Kit 1962 Release
40-foot Steel Reefer
Swift
No. 1600 -1957 Release
Originally released as an orange car with white lettering, later releases featured a red car with white lettering. Car reporting marks remained SRLX 14793 through both color variations.
The plastic model of the 40-foot steel ice hatch refrigerator car arrives in the Athearn line in 1958. The first road names presented for the plastic kit included: Blatz, Swift, Carnation Milk, Canadian National, Santa Fe, and Pacific Fruit Express. The decorated kits originally retailed for $1.69 each. Athearn offered ready to run examples of the six road names for $2.49 each. Additionally, Athearn cataloged an unlettered reefer with orange sides and brown roof and ends for $1.29. The kit is reviewed in the May 1958 Model Railroader.

Working Doors? When introduced in 1957, Athearn's 40' ice hatch refrigerator car included multi-part doors that allowed opening. The tooling is revised and this feature becomes the more familiar solid section of cast-in doors, hinges and handle. I don't have an exact listing of roadnames produced between 1957 and the change to the revised shell, however the following should all have opening door examples: Swift, PFE, Carnation, Blatz, Canadian National, ATSF-Chief, FGEX, CB&Q, and Railway Express.