Pickle Car w/Closed Sides
Heinz
No. 1476 -Kit -1959 Release
No. 2476 -RTR -1959 Release
The closed side example dates to the same 1959, as the open sided model. Colors and roadnumbers vary over the years of production.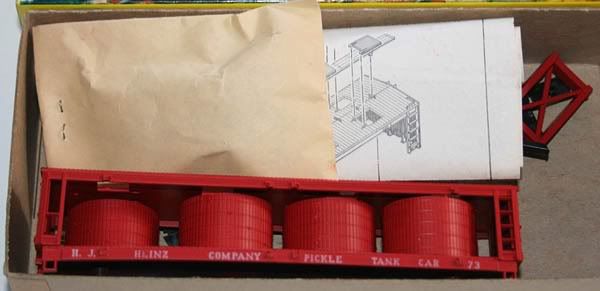 Pickle Car w/Open Sides
Heinz
No. 1475 -Kit -1959 Release
No. 2475 -RTR -1959 Release
Athearn has produced the Heinz open side example in a variety of configurations. The car is introduced in 1959. While it maintained the stock number 1475, the roadnumber varied from 73, to 100, to 101. The combination of tank and car color went from solid red to yellow and tuscan. The solid red example present here is among the oldest of examples produced.
Pickle Car w/Open Sides
Undecorated
No. 1474 -Kit -1959 Release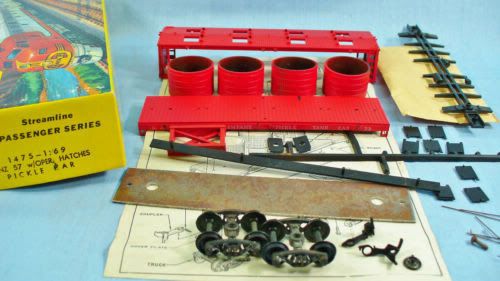 The interesting and unique Pickle Car was included in Athearn's product line beginning in 1959 and remained until the modern ready to roll example moved to the Roundhouse Products banner. Bachmann offered a version of the Pickle Car with closed sides and an open side version, labeled a Vinegar Car in the mid 1980s.