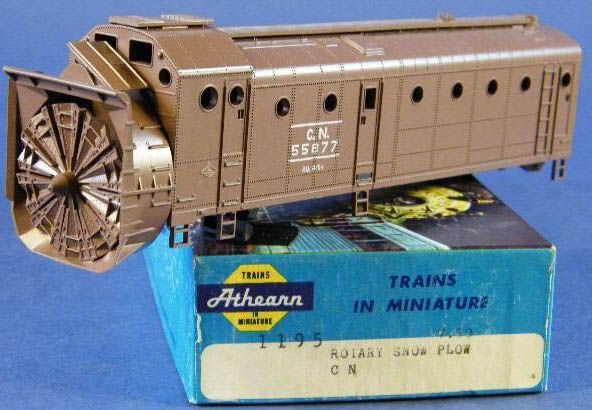 Rotary Snow Plow
Canadian National
No. 1195
Rotary Snow Plow
Great Northern
No. 1196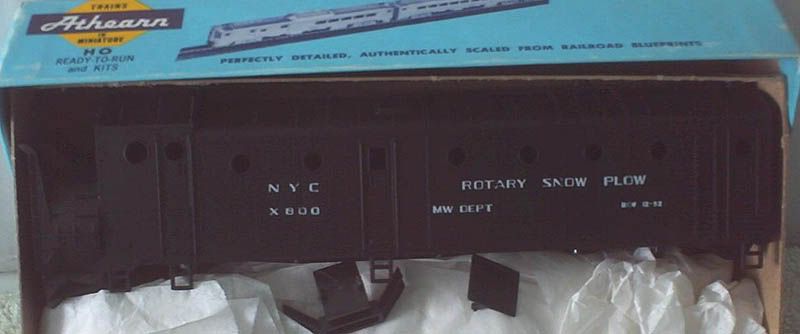 Rotary Snow Plow
New York Central
No. 1197
Rotary Snow Plow
Union Pacific
No.1198

Rotary Snow Plow
Undecorated
No. 1194
The May 1963 Railroad Model Craftsman magazine's Dispatchers Report column detailing new products states, "Athearn's new snow plow is now available at hobby shops in both RTR and kit form." The original roadnames for the Snow Plow in 1963 were: New York Central, Union Pacific, Canadian National, and Great Northern. The RTR Snow Plow originally sold for $3.95 and the kit sold for $2.95.
Railroad Model Craftsman's Test Track column in May 1963 includes the Athearn Snow Plow model. RMC indicates the model is based on a "recent Lima design measuring about 52'." A Hi-F rubber band drive running off the front truck propelled the blades of the Snow Plow into action.
Plans for Lime-Hamilton's Snow Plow that matches Athearn's model are found in Model Railroader's April 1953 edition.