50-foot Outside Braced Box Car
Baltimore & Ohio
No. 1337 -1968 Release
50-foot Outside Braced Box Car
Cotton Belt
No. 1338 -1968 Release
50-foot Outside Braced Box Car
Denver & Rio Grande Western
No. 1341 -1968 Release

50-foot Outside Braced Box Car
Great Northern
No. 1339 -1968 Release
50-foot Outside Braced Box Car
Kansas City Southern
No. 1346 -1971 Release

50-foot Outside Braced Box Car
Lehigh Valley
No. 1343 -1971 Release
50-foot Outside Braced Box Car
Pennsylvania Railroad
No. 1340 -1968 Release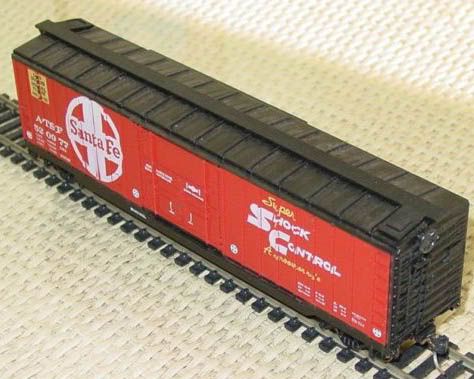 50-foot Outside Braced Box Car
Santa Fe
No. 1344 -1971 Release

50-foot Outside Braced Box Car
Southern
No. 1345 -1971 Release
50-foot Outside Braced Box Car
Union Pacific
No. 1342 -1968 Release
50-foot Outside Braced Box Car
Undecorated
No. 1336 -1968 Release
Model Railroader's May 1968 Trade Topics section includes Athearn's 50-foot outside-braced mechanical reefer and 50-foot outside-braced plug-door boxcar.

Railroad Model Craftsman reports in its June 1968 edition that this outside-braced plug-door boxcar was in hobby shops in February of that same year.

Athearn's 50-foot outside-braced boxcar is listed as having a $1.98 retail price in kit form, when new in the spring of 1968. The first release included six road names: Baltimore & Ohio, Cotton Belt, Great Northern, Pennsylvania Railroad, Rio Grande, and Union Pacific, plus an undecorated model. Kansas City Southern, Southern, Lehigh Valley, and Santa Fe join the line in 1971.

Athearn added this boxcar to its Ready To Roll line in 2006 and provided an extended or cushioned coupler underframe, among other enhancements for this 21st century fully-assembled release.

Though never marketed as such and not an exact match, this boxcar is very similar to Pennsylvania Railroad's X58 class built by the road's shops beginning in 1964.