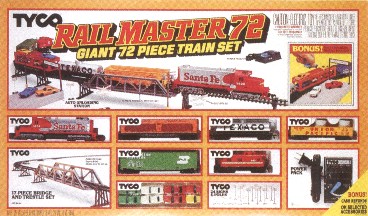 Rail Master 72
Giant 72-Piece Train Set
No. 7413
Listed as NEW in the 1984 catalog, this set featured a red and silver Santa Fe GP-20 Diesel, 40' Tank Car, 40' Hopper, 50' Plug Door Box Car, AutoLoader with Six Autos, and a Streamline Cupola Caboose. This set also boasted an Auto Unloading Station, which was TYCO's Truck Terminal re-dressed with a different sign. Additionally, this well appointed set had a 24-piece Poles & Signs Set; 17-piece Bridge & Trestle Set and a 36" x 45" oval track plan with 1-amp TYCOPak.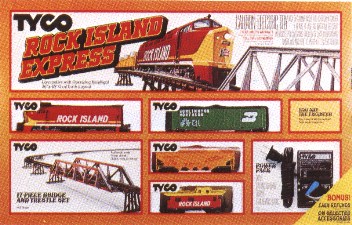 Rock Island Express
No.7403
TYCO's 1984 catalog claims, "Whatever the cargo may be, 'The Rock Island Express' is equipped to handle the load." The set features a red and yellow Rock Island RF-16 Shark Nose Diesel pulling a 50' Plug Door Box Car, 40' Gondola with Culvert Pipe Sections and Streamline Cupola Caboose. The catalog calls for a Hopper Car in place of the pictured Union Pacific 40' Gondola with Culvert Pipes. This set included a 17-Bridge & Trestle Set with a 36" x 45" oval track plan, all powered by a 1-amp TYCOPak.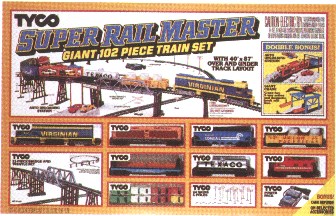 Super Rail Master
Giant 102-Piece Train Set
No. 7426
A new addition to the TYCO line in 1984 is this very well equipped train set, The Super Rail Master. Powered by a Virginian Alco Century 430, the set's rolling stock included a AutoLoader with Six Autos, Gondola with Pipe, 50' Steel Car, Hopper Car, Tank Car, and Caboose. Accessories included the Auto Unloading Station, 33-piece Bridge & Trestle Set, Operating Crane, 24-Poles & Signs and enought Tru-Steel Track to create a 40" x 87" Figure-8 layout powered by a TYCOPak. The 50' Steel Car and Operating Crane in this set were sold separately as TYCO's U.S. Steel Giant Operating Crane (No.950). The set box is shown to include the general purpose red caboose, but examples have been seen with a blue and yellow Virginian Caboose as part of this set.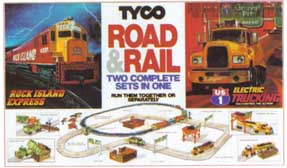 US-1 Road & Rail
No. 3235
The US-1 Road & Rail set is listed among TYCO's US-1 Electric Trucking sets in the 1984 product catalog. The train set contents were a Lighted Alco Century 430 in yellow-and-red Rock Island dress (#235-10); a yellow 40' Union Pacific Hopper Car (#344E); a green 50' Burlington Northern Box Car; a silver Texaco Tank Car (#315A); and a red with yellow roof Rock Island streamline Caboose (#327-10). A Power Pack (#899) and enough track to create a 39"x48" layout. TYCO included two road-and-rail straight crossing sections.
The trucking portion of the set included a Dump Truck (#3901); Truck Cab (#3904) and Gravel Trailer (#3925); Dump Yard; Gravel Bin; Operating Gravel Hopper; Logs; Highway Signs; 16-sections of US-1 track; a pair of red US-1 controllers; and TYCO's racing line wall Power Pack. This set is the same in contents and number to the 1981 offering.
TYCO's US-1 Electric Trucking line was cataloged from 1981 through 1986.