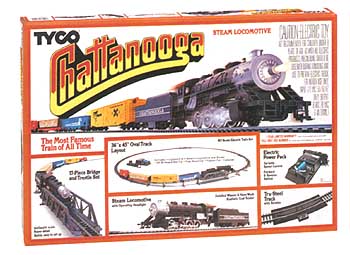 Train Set
The Chattanooga
No. 7419
The 1989 cataloged Chattanooga train set included an 0-8-0 Steam Loco and Tender. The loco shown in the catalog features a boiler with a silver colored end, a brown cab roof and carries the number 1261. The set also included a 50' Billboard Box Car; a Pulp Wood Car; a 40' Hopper Car and Caboose. A 17-Piece Bridge and Trestle Set was included with 14-sections of track that created an elevated 36" x 45" oval layout. The standard 1-amp Tyco-Pak (#895) was also included in this train set.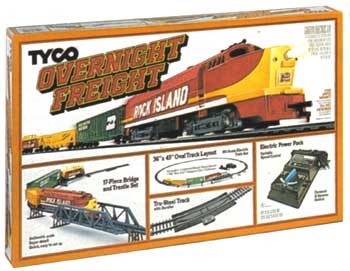 Train Set
Overnight Freight
No. 7401
The 1989 Overnight Freight appears in the catalog with a red-and-yellow Rock Island Shark Nose Diesel pulling a green Burlington Northern 50' Box Car; a yellow Union Pacific 40' Gondola with Pipe; and a red with yellow roof Rock Island Caboose. The Overnight Freight set included a 1-amp Tyco-Pak (#895); enough track to create a 36" x 45" oval layout that could be made elevated thanks to the included 17-Piece Bridge & Trestle Set.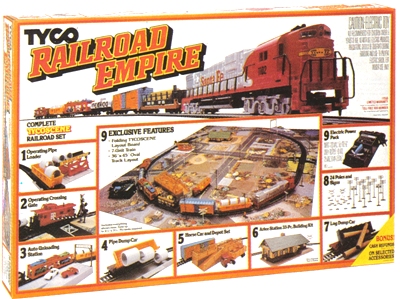 Train Set
Railroad Empire -Complete TycoScene Railroad Set
No. 7419
TYCO's major train set offering in the 1989 product catalog was The Railroad Empire. This set featured the red-and-silver Santa Fe Alco Super 630 (#250-21); the Autoloader with six autos; 40' Tank Car; Log Dump Car with Logs; Pipe Dump Car; Caboose; Auto Unloading Station; Operating Pipe Loader; Operating Crossing Gate (#908); Pipe Dump Bin; Horse Car and Depot Set (#869); Arlee Station TYCOKIT (#7761); Log Dump Bin; 24-Signs and Poles; TYCOSCENE Layout Board (#7940); 14-sections of track to build a 36" x 45" oval layout; and power pack.
The description in the 1989 catalog suffers from some confusion. The catalog states The Railroad Empire includes a Stock Car, however it appears the reference might be to the Horse Car as that is the closest and only similar item in the pictures and train set package images. The set calls for the "Horse Car and Depot set with 6 Horses", but then goes on to list the "Truck Cab and Trailer and Stockyard Deport", which is likely a second mention of the Horse Car set (#869). Oddly, this set also states it features a "Wall Power Pack," however the pictures show the standard Tyco Pack (#895).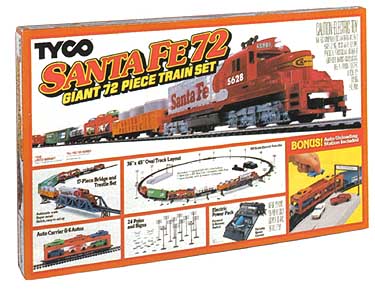 Train Set
Santa Fe 72 - Giant 72 Piece Train Set
No. 7414
Listed as a NEW train set in the 1989 TYCO catalog, the Santa Fe 72 included a GP-20 Diesel, Tank Car, 50' Box Car, Gondola with Pipes, AutoLoader with 8 Autos, and Caboose. Additionally, the set featured an Auto Loading Station, 17-piece Bridge & Trestle Set, 24 Poles and Signs, and a 36" x 45" oval track plan with a TYCOPak included.

Train Set
Turbo Express
No. 7424
This was a NEW addition to TYCO's Turbo sets for 1989. Perhaps one of the most unique examples of the application of the famous Santa Fe warbonnet paint scheme is found on the silver and red Turbo Loco included in this set. The Loco matches the one provided in other TYCO Turbo set, the cars however are unique and different from other Turbos. The set included a Burlington Northern Turbo Box Car, Texaco Turbo Tank Car, Union Pacific Turbo Gondola and Santa Fe Turbo Caboose. An orange cast version of TYCO's 17-piece Bridge & Trestle Set was in the Turbo Express, plus the cardstock Control Tower, Loading Dock, Tunnel/Station, and Freight Crane. The cardstock building items are also unique to this Turbo offering. The track plan built a figure-8. The set was controlled by the hand held slot car-like Controller and wall power pack.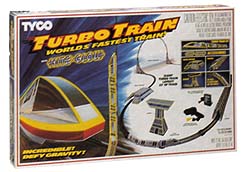 Train Set
Turbo Train
No. 7427
This set was similar to TYCO's Super Turbo Train set. The Turbo Train had the 3-piece Loco, Coach, Caboose Turbo Train. Fold-up cardstock accessories included a Tower, Tunnel, and Bridge. The set had 32 sections of track with a pair of Cradles to allow the Turbo Train to run up walls. A Nite-Glow Decoration Sheet, Controller and Power Pack finished out this set's contents.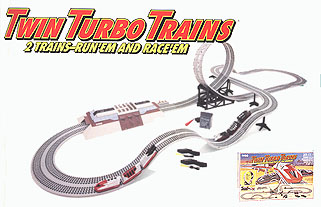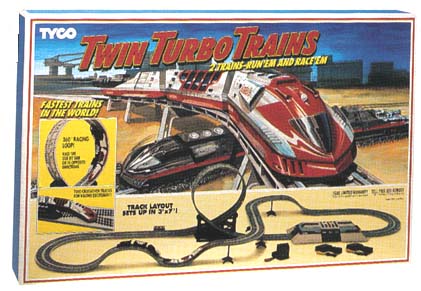 Train Set
Twin Turbo Trains
No. 7438
This set included a pair of 3-car trains. One dressed in red-and-silver and lettered Santa Fe; the other was black with red stripes and lettered Pennsylvania. The track is not HO-scale train track, but a variation of slot car track. TYCO refers in the catalog description to this as being Racing Track Train. The Twin Turbo Trains set featured 25' of Racing Track Track including a 360-degree loop section. A cardstock Tunnel is also included. The set is controlled by a pair of hand-held slot car-like controllers.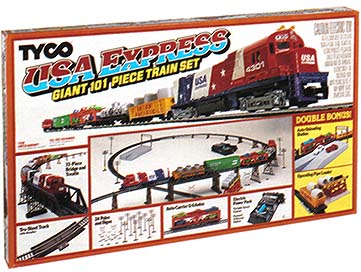 Train Set
USA Express - Giant 101 Piece Train Set
No. 7420
This train set was featured a red-white-and-blue Alco Century 430 lettered for TYCO's USA Express carrying the number 4301 on its cab. The USA Express set also included the Autoloader with six autos; a 40' Tank Car; Gondola with Pipe; a 50' Box Car and Caboose. Noted as being a "Double Bonus!" this set also provided an Auto Unloading Station and Operating Pipe Loader. The 33-Piece Bridge and Trestle Set (#909); 24 Signs and Poles; and 26-sections of track to build a figure-8 40" x 87" layout were all also in The USA Express set.
Of note, the catalog description calls for eight autos to go with the Autoloader. Standard TYCO practice was to include a half-dozen autos. If you examine the train set package for The USA Express, it reads "Auto Carrier & 6 Autos," so one would assume the correct number is six autos for this set. The Operating Pipe Loader is not featured among the limited number of Action Cars & Accessories for 1989. The USA Express Alco Century 430, though not uncommon, is thought to have been only available in this train set. By '89 most TYCO engines were sold without any handrails, so a complete USA Express Alco Century 430 most likely would not include a set of plastic handrails.