Brown Box Era HO-Scale Trains
1991 Train Sets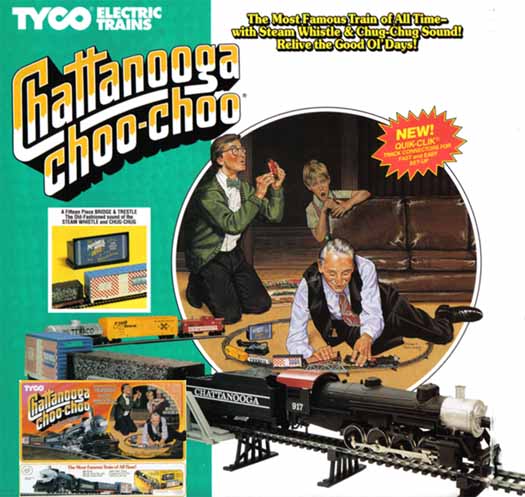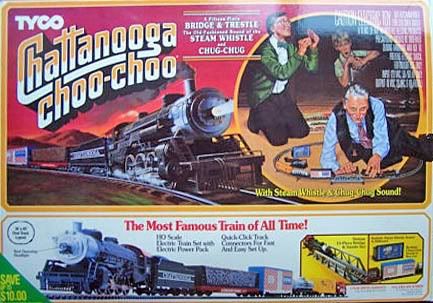 Train Set
Chattanooga Choo-Choo
No. 7425
Enjoying its final variation, TYCO introduces a new and final example of the popular Chattanooga Choo-Choo train set in the 1991 product catalog. By this point in TYCO's HO-scale train production, many/most items in this set are Mehano made in Yugoslovia.
The set for 1991 featured an 0-8-0 Chattanooga Steam Engine and Tender. This early '90s Chattanooga 0-8-0 does not feature smoking action and has a silver ended boiler and brown cab roof with roadnumber 917 on its cab. TYCO's 50' Pulpwood Flat Car normally seen with Southern Railway markings returns in this set lettered for Chattanooga; the Chug-Chug Sound Box Car is back dressed in Ralston Purina colors; also included in the set is a 40' Texaco Tank Car; 50' RailBox Box Car; and Chattanooga Streamline Cupola Caboose. The RailBox Box Car is not the typical TYCO 50' Plug Door Box Car, but a modern no-roofwalk insulated 50' Box Car. Again, this variation Box Car like other items in the set are Mehano tooling and production utilized by TYCO in this final years of HO-scale train offerings.
The Steam Whistle Billboard carries a new Maxwell House Coffee advertisement in place of the earlier design. TYCO's track plan for this set was a 36" x 45" oval that included a 15-piece Bridge & Trestle Set and then-new Quick-Clik Track Connectors.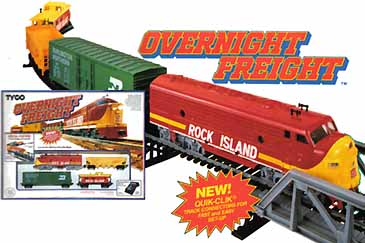 Train Set
Overnight Freight
No. 7412
The Overnight Freight set's description states that it features a Lighted Shark Nose Diesel. The package art for the set does appear to show a Shark Nose. Closer inspection of the diesel residing within the Overnight Freight box shows an F-unit. The image TYCO uses for the set also is an F-unit. The red Rock Island F-9A diesel powering The Overnight Freight is a Yugoslovian-made diesel that appears in very late TYCO sets from the early 1990s. To my knowledge, TYCO did not sell this diesel as a separate item and it was only found in train sets impersonating a Shark Nose. This F-9's tool and die work may have its basis in the defunct American Train & Track offerings of the late '60s and early 1970s. The Overnight Freight also included a 50' Box Car; a 40' Hopper Car; and Rock Island Caboose. The set came with a 17-piece Bridge & Trestle Set; 14-sections of track capable of making a 36" x 45" oval layout; TYCO's Quik-Clik Clips; and a 1-amp Tyco-Pak. In addition to the replacement F-9A seen here, The Overnight Freight has also been spotted with a red-and-yellow Rock Island Alco FA diesel, also produced for the set in Yugoslovia.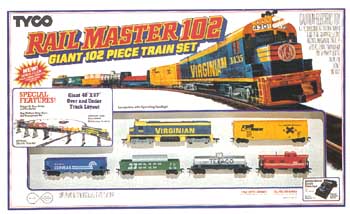 Train Set
Rail Master 102 - Giant 102 Piece Train Set
No. 7422
This set featured a Virginian Lighted Alco 430 Diesel; Tank Car; Gondola with Pipes; Hopper Car; 50' Box Car; Caboose; 33-piece Bridge and Trestle Set; 36 Signs, Poles and Townspeople; 26-sections of track to create a 40" x 87" figure-8; Quik-Clips; and Power Pack.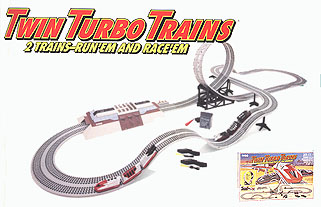 Train Set
Twin Turbo Trains
No. 7438
This set included a pair of 3-car trains. One dressed in red-and-silver and lettered Santa Fe; the other was black with red stripes and lettered Pennsylvania. The track is not HO-scale train track, but a variation of slot car track. TYCO refers in the catalog description to this as being Racing Track Train. The Twin Turbo Trains set featured 25' of Racing Track Track including a 360-degree loop section. A cardstock Tunnel is also included. The set is controlled by a pair of hand-held slot car-like controllers.
Train Set
Santa Fe 72 - Giant 72 Piece Train Set
No. 7415
Similar to the other train sets to be featured in the twilight of TYCO's HO-scale electric trains, The Santa Fe 72 set suffers from some confusing packaging artwork versus actual contents. The train set box TYCO uses for this set clearly shows a red-and-silver Santa Fe GP-20. A GP-20 is seen both as the large graphic representation of the train and as an inset image of the set. The 1991 catalog calls for an Alco 430, which is what appears to have been found in most of the very late examples of TYCO's Santa Fe 72 set. The Santa Fe Alco 430 in this set however is not the familiar model that was introduced during TYCO's Red Box Era of the 1960s. This Alco Century 430 is a Yugoslovian-made model and is very close in appearance to the currently available Model Power Alco Century 430.
The Santa Fe 72 set of 1991 also included a 40' Tank Car; a 50' Box Car; Gondola with Pipe; and Caboose. All of these freight cars are European-made models and some do, while others don't favor original TYCO models from earlier offerings. This train set also included a 17-Piece Bridge & Trestle Set; 14-sections of track to build a 36" x 45" oval; 36-Piece Poles, Signs and Townspeople Set; TYCO's Quik-Clik Clips; and a 1-amp Tyco-Pak.
Of possible interest in The Santa Fe 72 train set is the 36-Piece Poles, Signs and Townspeople Set. This particular accessory is not found in any TYCO catalog. This set would remain until TYCO's final year of HO-scale trains in 1993.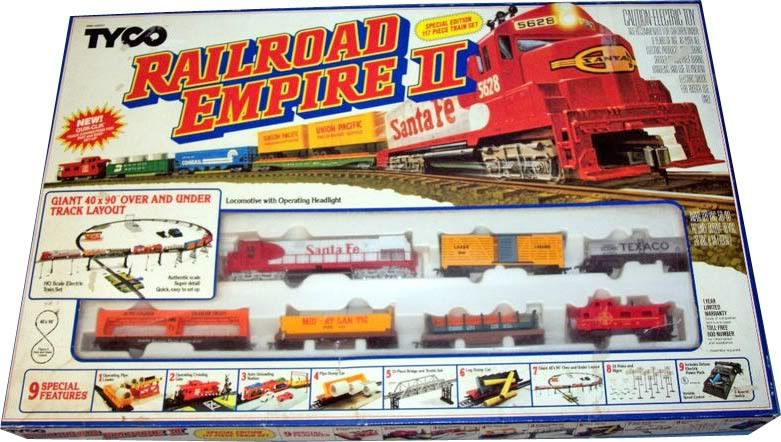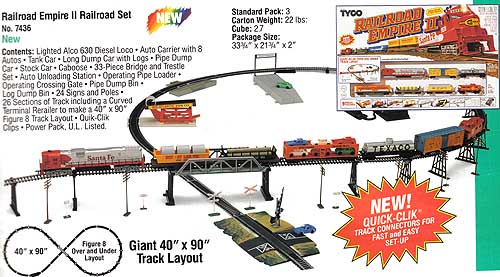 Train Set
Railroad Empire II - Special Edition 117 Piece Train Set
No. 7436
This set lists its power as being a Lighted Alco 630 Diesel, however many sets by this late date actually featured a Yugoslovian-made low nose Alco Century 628. This is the same model offered by IHC, AHM, Life-Like, and Model Power in the past. Just to add a further bit of confusion, the box artwork shows a GP-20 while the image of the displayed set shows a Super630 in TYCO's catalog for that year.
The set also included the Autoloader with Six Autos; Tank Car; Log Dump Car Set; Pipe Dump Car Set; Stock Car; and Caboose. Also in the Railroad Empire II was a 33-Piece Bridge and Trestle Set; Auto Unloading Station; Operating Pipe Loader; Operating Crossing Gate; 24-Signs and Poles; 26-sections of track to create a 40" x 90" figure-8 track plan; Quik-Clik Clips; and Power Pack.