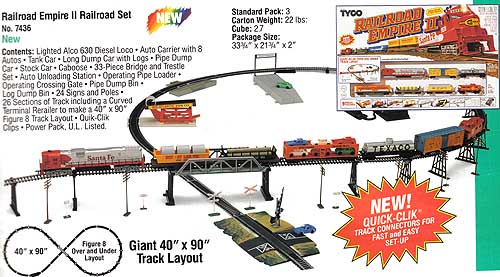 Train Set
Railroad Empire II
Special Edition 117 Piece Train Set
No. 7436
This set lists its power as being a "Lighted Alco 630 Diesel," however many sets by this late date delivered with a Yugoslavian-made low-nose Alco Century 628. This is the same model offered most recently by IHC Hobby and in years past by AHM, Model Power, and originally by Life-Like in the mid-1970s. Just to add a further bit of confusion, the box artwork shows a GP20 diesel, while the model image of the displayed set shows TYCO's Super 630 diesel.
The set also included the Autoloader with Six Autos, Tank Car, Log Dump Car Set, Pipe Dump Car Set, Stock Car, and Caboose. Also in the Railroad Empire II was a 33-Piece Bridge and Trestle Set, Auto Unloading Station, Operating Pipe Loader, Operating Crossing Gate, 24-Signs and Poles, 26-sections of track to create a 40 x 90 inch figure-8 track plan, Quik-Clik Clips, and Power Pack.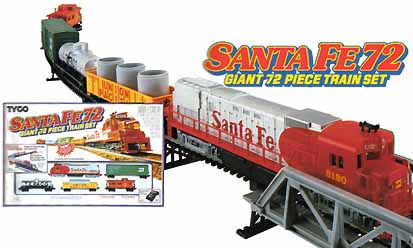 Train Set
Santa Fe 72
Giant 72 Piece Train Set
No. 7415
Similar to the other train sets to be featured in the last TYCO catalog to include HO-scale electric trains, The Santa Fe 72 set from 1993 suffers from some confusing packaging artwork versus actual contents. The train set box TYCO uses for this set in 1993 clearly shows a red-and-silver Santa Fe GP20. A GP20 is seen both as the large graphic representation of the train and as an inset image of the set. The 1993 catalog calls for an Alco 430, which is what appears to have been found in most of the very late examples of TYCO's Santa Fe 72 set. The Santa Fe Alco 430 in this set however is not the familiar model that was introduced during TYCO's Red Box Era of the 1960s. This Alco Century 430 is a Yugoslavian-made model and is very close in appearance to Model Power's Alco Century 430 release.
The Santa Fe 72 set of 1993 also included a 40-foot Tank Car, a 50-foot Box Car, Gondola with Pipe, and Caboose. All of these freight cars are European-made models and some do, while others don't favor original TYCO toolings from earlier offerings. This train set also included a 17-Piece Bridge & Trestle Set; 14-sections of track to build a 36 x 45 inch oval; 36-Piece Poles, Signs and Townspeople Set; TYCO's Quik-Clik Clips; and a 1-amp Tyco-Pak.
Of possible interest in The Santa Fe 72 train set is the 36-Piece Poles, Signs and Townspeople Set. This particular accessory is not found in any TYCO catalog.