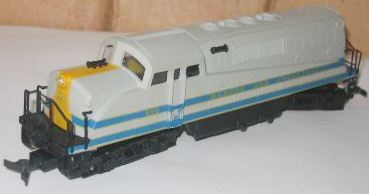 BL-2 Diesel Locomotive
Bangor & Aroostock
No.5040-G
No.5040-07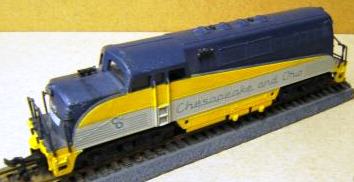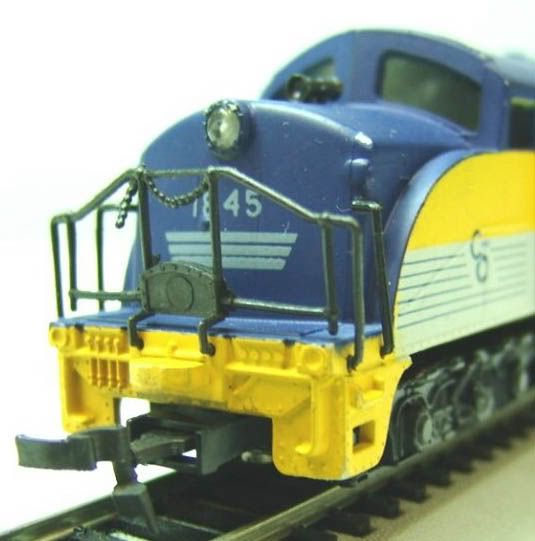 BL-2 Diesel Locomotive
Chesapeake & Ohio
No. 5040-B
No. 5040-B & BD -Powered & Dummy
No. 5040-02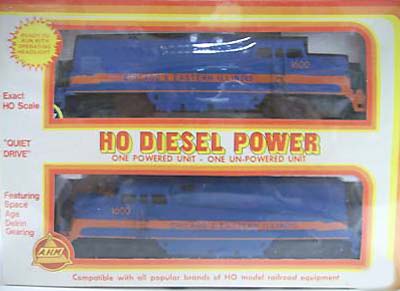 BL-2 Diesel Locomotive
Chicago & Eastern Illinois
No. 5040-I
No. 5040-I & ID -Powered & Dummy
No. 5040-09
BL-2 Diesel Locomotive
Florida East Coast
No. 5040-C
No. 5040-C & CD -Powered & Dummy
No. 5040-03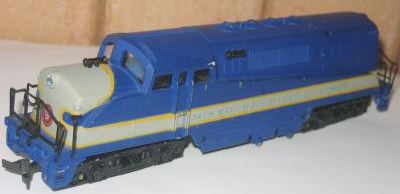 BL-2 Diesel Locomotive
Missouri Pacific
No.5040-D
No.5040-04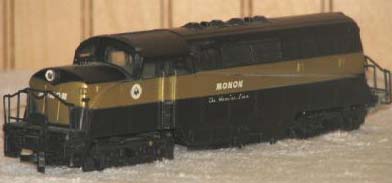 BL-2 Diesel Locomotive
Monon
No. 5040-F
No. 5040-F & FD -Powered & Dummy
No. 5040-06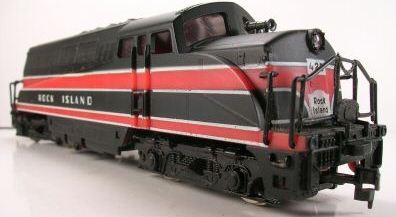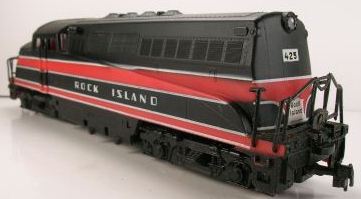 BL-2 Diesel Locomotive
Rock Island
No. 5040-H
No. 5040-H & HD -Powered & Dummy
No. 5040-08

BL-2 Diesel Locomotive
Western Maryland
No. 5040-E
No. 5040-E & ED -Powered & Dummy
No. 5040-05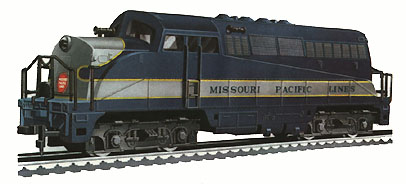 The Branch-Line or BL-2 from AHM is among the company's earliest offerings. As such, it does suffer from some degree of crudity. The unit rides on the truck used for the FM C-Liner, rather than the prototypical EMD Blomberg truck. The model also lacks steps on the cab doors. Possibly its most distinguishing feature may be its slightly overweight appearance. The AHM BL-2 appears to be a bit wider and bigger than it should be at 1:87th actual scale.
The early roadnames for this model included: C&O, MoPac, Western Maryland, and Monon. In the 1967-68 AHM Catalog, the BL-2 has a $8.95 retail price.
AHM offered its BL-2 as a powered and also a non-powered model. Adding a "D" to the model's stock number was the designation for non-powered examples.
AHM sold the BL-2 in pairs (one powered and one non-powered) for a time in the 1970s and into the '80s. A BL-2 pair is seen in the Chicago & Eastern Illinois set seen above. As was typical of models of this period, both BL-2 models carried the same roadnumber. Beyond AHM's offering of this Yugoslovian-made BL-2, no other U.S. hobby company has imported this version. The AHM model survives just into the 1980s.
Plans for the EMD BL-2 diesel are included in the June 1962 issue of Model Railroader magazine. The prototypes were built by EMD over the course of little more than a year in 1948-1949. Original buyers for this odd diesel included: Bangor & Aroostock, Boston & Maine, C&O, Chicago & Eastern Illinois, Florida East Coast, Missouri Pacific, Monon, Rock Island and Western Maryland. AHM did a very good job of covering most all the owners in its 1/87th-sized offering.