Two-Truck Heisler
Coos Bay Timber
No. 5168C -1977 Release
No. 5168-03-1979 Release

Two-Truck Heisler
Deep River Logging
No. 5168D -1977 Release
No. 5168-04 -1979 Release
No. 17712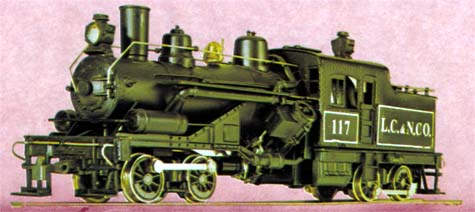 Two-Truck Heisler
Lehigh Coal & Navigation
No. 5168-06 -1979 Release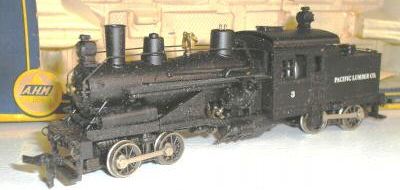 Two-Truck Heisler
Pacific Lumber
No. 5168E -1977 Release
No. 5168-05 -1979 Release
No. 17711
Two-Truck Heisler
West Side Lumber
No. 5168B -1977 Release
No. 5168-02 -1979 Release
Two-Truck Heisler
Undecorated
No. 5168-07 -1979 Release
The Heisler in its Two-Truck version was introduced in late 1977 by AHM. The model was launced with a $79.99 introductory offer. The regular retail was $119.98, begining in 1978. RP-25 flanges were standard from the start and four roadnames were present initially: Coos Bay Timber, Deep River Logging, Pacific Lumber, and West Side Lumber.
AHM brings two new roadnames, Lehigh Coal & Navigation and Tioga Lumber Co., plus an Undecorated Two-Truck Heisler to its catalog in 1979. The retail price moved to $149.98, but an introductory $99.98 offering was made for a short time.
AHM's Two-Truck Heisler sold for $179.98 in 1980. The 1981 AHM catalog only includes the Two-Truck Heisler. No Heisler steam engines are found beginning in AHM's 1982 catalog.