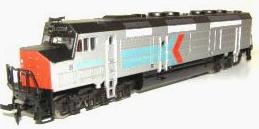 FP45 Diesel Locomotive
Amtrak
No. 5150-07
No. 16701 -Pwr & Non-Pwr Set
No. 16401 -Pwr w/Caboose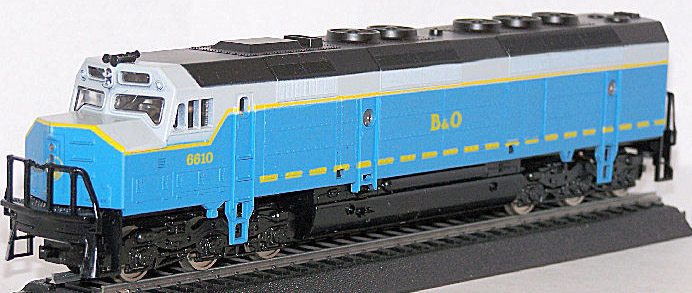 FP45 Diesel Locomotive
Baltimore & Ohio
No. 5150F -1976 Release
No. 5150-FD -Non-Pwr
No. 5150-06
FP45 Diesel Locomotive
Chessie System
No. 16704 -Pwr & Non-Pwr Set
No. 16404 -Pwr w/Caboose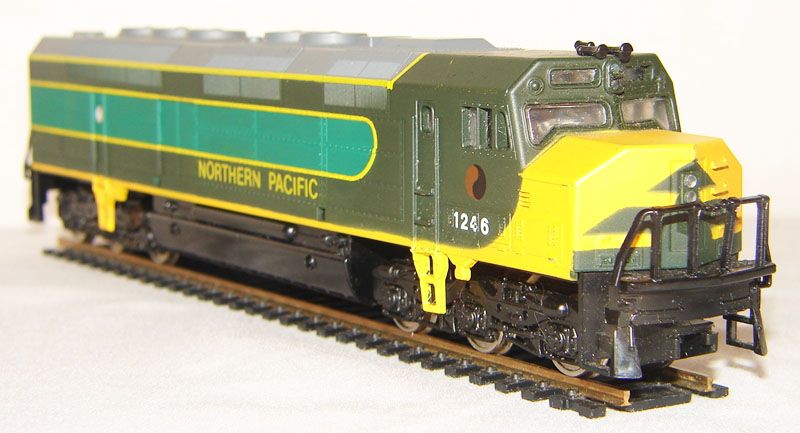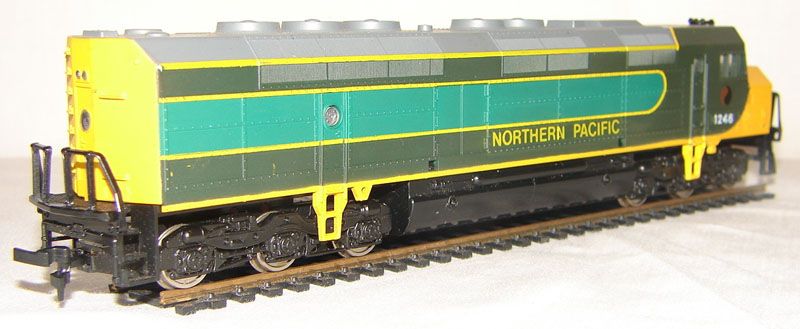 FP45 Diesel Locomotive
Northern Pacific
No. 5150E -1976 Release
No. 5150-ED -Non-Pwr
No. 5150-05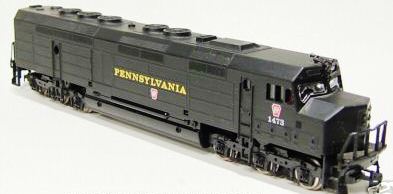 FP45 Diesel Locomotive
Pennsylvania Railroad
No. 5150B -1976 Release
No. 5150-BD -Non-Pwr
No. 5150-02
FP45 Diesel Locomotive
Santa Fe
No. 5150C -1976 Release
No. 5150-CD -Non-Pwr
No. 5150-03
No. 16702 -Pwr & Non-Pwr Set
No. 16402 -Pwr w/Caboose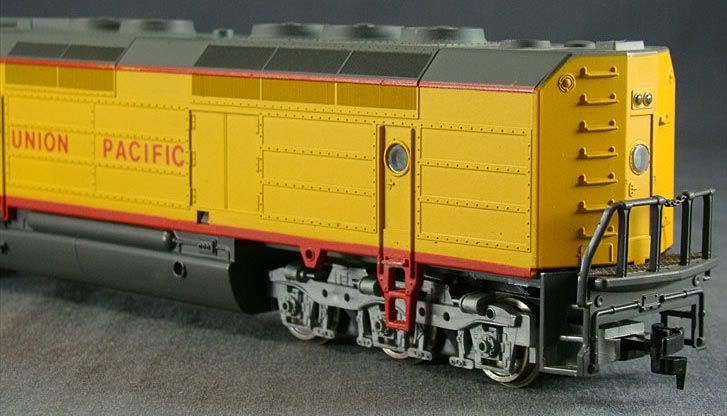 FP45 Diesel Locomotive
Union Pacific
No. 5150D -1976 Release
No. 5150-DD -Non-Pwr
No. 5150-04
No. 16703 -Pwr & Non-Pwr Set
No. 16403 -Pwr w/Caboose
There are at least two variations to this Union Pacific AHM FP45 release. The original version features small red Union Pacific lettering down the side of the engine. Later editions include larger lettering, the road's shield herald, and mid-1970s "We Can Handle It" slogan.

Listed as a new in AHM catalogs of the early-mid 1970s, this HO-scale EMD FP45 model stayed in the company's roster through the early 1980s after arriving on the scene in mid-1977.

The FP45 models found on this page differ from those found on the neighboring page under the FP45C -Lima heading. The Lima-made FP45 models were the first sold by AHM and did not remain in the catalog long. By the mid 1970s, AHM switched from importing its Lima-Italian-made FP45 to a Mehano Yugoslavian-made FP45 release presented here.
This second FP-45 model is distringuished from the Lima FP-45 by the open front and rear pilots, which are attached to the shell and not the trucks in this example. This FP-45 also has steps included on the shell, not cast on the trucks, coming down from the cab.
At its introduction in the middle of 1977, the retail price for this model was $17.98. Non-powered examples originally sold for $7.98. Non-powered examples are noted in AHM's stock numbering with a "D" added to the end of the number. The 1980 AHM Catalog lists this model with a $24.98 suggested retail price.