Train Set
The Empire Builder
1977-1979 (No.160)
The HO-Scale 4-8-4 Northern arrives in the Bachmann's catalogs with the 1976 edition. The Northern's first train set appearance is 1977 and The Empire Builder set. The original set carrying stock number 160 featured a Burlington 4-8-4 Northern pulling a Coil Car; Flat Car with Containers; Triple Dome Tank Car; 50' Plug Door Box Car; Stock Car; and a Caboose with standard cupola. The track plan was a long figure-eight measuring 87" x 40" with a power pack finishing the set's contents.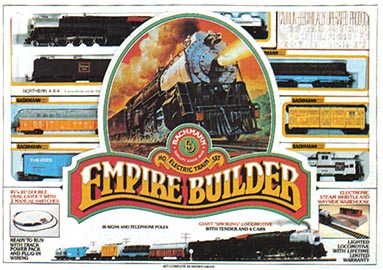 Train Set
The Empire Builder
1980-1981 (No.290)
1982-1986 (No.40-290)
For its 1980 catalog appearance this set receives a new double oval 45" x 45" track plan and the Electronic Steam Whistle (No.1436) operating accessory is included. The rolling stock in the 1980 catalog shows the Coil Car; Heavy Duty Flat Car with Logs; Stock Car; Triple Dome Tank Car; 50' Plug Door Box Car; and Caboose with standard cupola. The inset catalog image for '80 shows a wide-vision cupola Caboose, rather than the standard cupola in the larger image. Bachmann's train set offerings decline in quantity with the 1987 catalog and The Empire Builder is among those that didn't return after 1986's appearance.
Train Set
Empire Builder
1989 (No.00340)
The Empire Builder set is back with Bachmann's 1989 catalog with some revisions. The 1989 and later editions of this set are powered by a GP18.