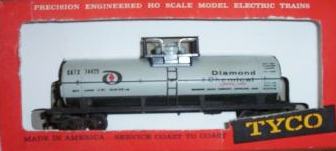 Chemical Tank Car
Diamond Chemcial
No.T324-A
One of the three Chemical Tank Cars listed regularly in TYCO's catalogs from 1960 through 1965-66, the Diamond Chemical example continued to be available into the early '70s and TYCO's Brown Box Era offerings.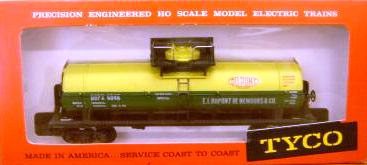 Chemical Tank Car
DuPont
No.T324-B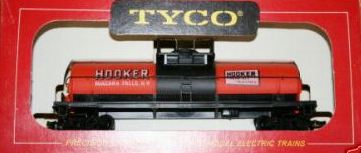 Chemical Tank Car
Hooker Chemcial
No.T324-C

TYCO's Hooker Chemcial Tank Car is found among catalog listings from the 1960 edition through the 1965-66 product catalog. TYCO no longer presents a complete roster of roadnames beginning with its 1966-67 catalog for each model. The Hooker example does continue through the Red Box Era and into TYCO's Brown Box Era of the 1970s.
The 1960, 1961, 1962-63, 1963-64, 1964-65 and 1965-66 TYCO catalogs list the retail price of $2.98 for this freight car.

The 1963-64 and 1964-65 catalogs have a kit, #K324A thru #K324C, for the Chemical Car priced at $2.29 each. Chemcial Car kits, #K324A thru #K324C, are $2.49 in the 1965-66 catalog.