Box Car
Baltimore & Ohio
No.T311W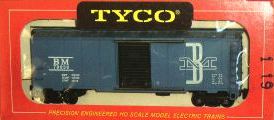 Box Car
Boston & Maine
No.T311G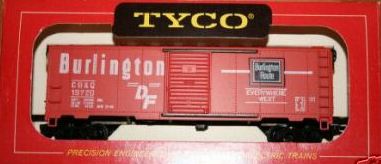 Box Car
Burlington
No.T311T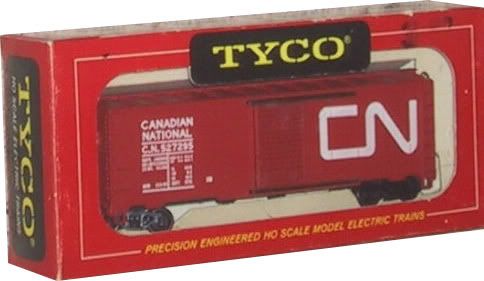 Box Car
Canadian National
No.T311X
No.T311Z

Box Car
Chesapeake & Ohio
No.T311S
Box Car
Chicago Outer Belt
No.T311N

Box Car
General American
No.T311C

Box Car
Great Northern
No.T311H

Box Car
Gulf, Mobile & Ohio
No.T311B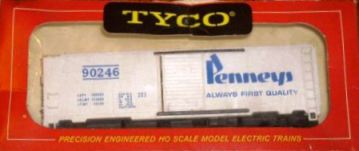 Box Car
JCPenney
No.311Y
This 40' Box Car is believed to have been a train set inclusion and may not have been sold as a separate rolling stock piece. It was never featured in TYCO catalogs.
Box Car
Louisville and Nashville
No.T311K
Box Car
Maine Central
No.T311D
Box Car
Minneapolis & St. Louis
No.T311Q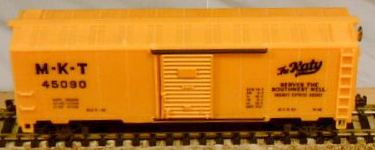 Box Car
Missouri, Kansas & Texas
No.T311F
Box Car
New Haven
No.T311J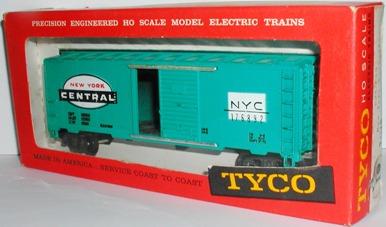 Box Car
New York Central
No.T311R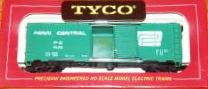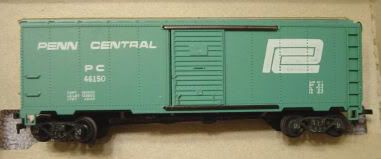 Box Car
Penn Central
No.T311X
Box Car
Pennsylvania
No.T311V
Box Car
Rutland
No.T311L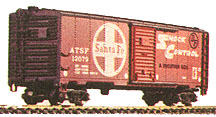 Box Car
Santa Fe
No.T311U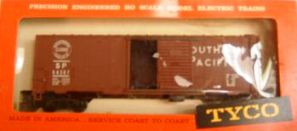 Box Car
Southern Pacific
No.T311P
Box Car
Toronto, Hamilton & Buffalo
No.T311M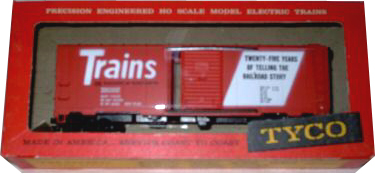 Box Car
Trains Magazine
This is a 1966 special run car produced by TYCO for a Trains magazine anniversary. The Trains box car was not cataloged by TYCO.
Box Car
Western Maryland
No.T311A

Box Car
U.S. Army
No.T311-X
This TYCO Box Car was cataloged for two years only, 1964-65 and 1965-66. It is listed as being sold only in R-T-R (ready to run) form and was not among kit offerings.
The 1960 through 1965-66 TYCO catalogs list the retail price of $2.49 for this freight car.

A kit, #K311A thru #K311T, for this box car model is first listed in the 1963-64 catalog with a $1.69 retail price. The 1964-65 catalog offers kits, #K311G thru #K311W, for $1.69 each. The 1965-66 catalog has kits, #K311G thru #K311W, priced at $1.89 each.
The plastic 40-foot box car was introduced under Mantua's name in the fall of 1954. Original road names for the plastic box car included: General American, Great Northern, Gulf Mobile & Ohio, Maine Central, Missouri-Kansas-Texas, and Western Maryland.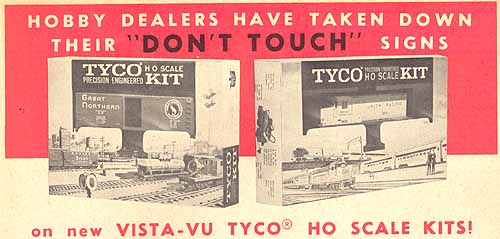 Click on either of the following images for a larger look at the instruction sheets included in the kit version of TYCO's 40' Box Car...