Tank Car
Atomic Energy Commission
No.T315-J

For its single listing in a TYCO catalog in the 1964-65 edition, no picture is provided for the Atomic Energy Commision Tank Car. The car is noted as being available in R-T-R form only and no kit was produced.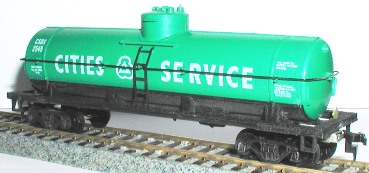 Tank Car
Cities Service
No.T315-G
Tank Car
Hercules
No.T315-D
Tank Car
Hooker
No.T315-C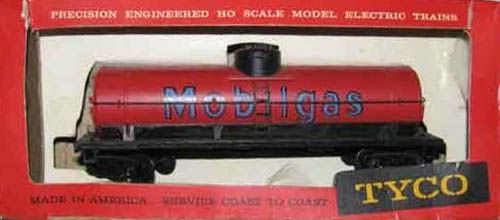 Tank Car
Mobilgas
No.T315-F
Tank Car
Republic
No.T315-B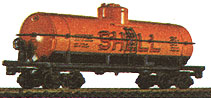 Tank Car
Shell
No.T315-C
Tank Car
Sinclair
No.T315-H
Tank Car
Texaco
No.T315-A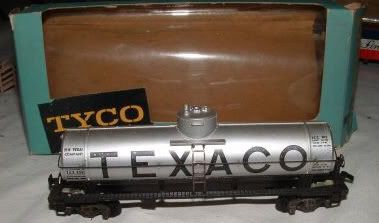 Above is a Blue Box example of TYCO's Texaco Tank Car. This car was among TYCO's early ready to run offerings sold first in the 1950s.
The 1960, 1961, 1962-63, 1963-64 and 1964-65 TYCO catalogs list the retail price of $2.79 for this freight car.

A Tank Car kit, #K315A thru #K315H, is found first in the 1963-64 catalog priced at $1.98 each. The kits for 1964-65's catalog are #K315A thru #K315G and are priced at $1.98 each. Tank Car kits, #K315A thru #K315G, are priced at $2.29 in the 1965-66 catalog.
Below are the instructions sheets for the TYCO Tank Car. Click on the images to view a larger version...