Flat Car
New York Central
No. T314-D
Flat Car
Pennsylvania
No. T314-A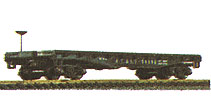 Flat Car
Santa Fe
No.T314-C
Flat Car
U.S. Navy
No. T314-B
Flat Car
U.S. Army
No. T314-F -1964 Release
Flat Car
Union Pacific
No. T314-E
The 1960, 1961, 1962-63, 1963-64, 1964-65 and 1965-66 TYCO catalogs list the retail price of $2.29 for this freight car.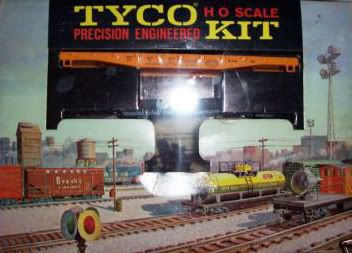 A kit, #K314A thru #K314E, is listed in the 1963-64 catalog selling for $1.29 each. The 1964-65 kits selling for $1.29 include #K314A thru #K314C. Kits, #K#14A thru #K314C, are $1.49 each in the 1965-66 catalog.
This flat car is introduced in mid-1955 under Mantua's name in kit form selling for $1.95. Original road names for that release included: Pennsylvania, Santa Fe, and U.S. Navy.