Old-Time Wood Reefer
Baby Ruth
-1992 Release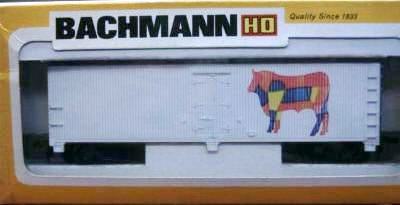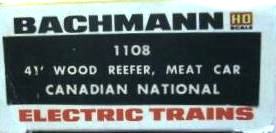 Old-Time Wood Reefer
Canadian National
No. 1108
This Canadian National example and the Canadian Pacific 41' Wood Reefers found on this page do not appear in Bachmann's catalogs. They were likely exclusive to the Canadian market when available in the '70s and early '80s.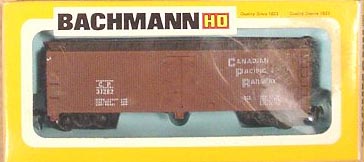 Old-Time Wood Reefer
Canadian Pacific
No. 1243
Old-Time Wood Reefer
Gerbers
The Gerbers 41' Wood Reefer is first listed in Bachmann's 1977 catalog. That year the Gerbers car shown in the catalog is actually an N-scale example.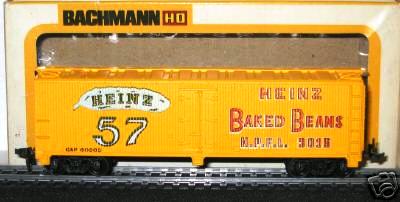 Old-Time Wood Reefer
Heinz 57
No. 1243
This yellow Heinz 57 Baked Beans car avoids having its picture taken for Bachmann catalogs. Its stock number in the 1200-series for the example examined suggests it would be a pre-1982 release, as Bachmann alters its numbering and no longer would have labeled this car with a four-digit number.
Old-Time Wood Reefer
Old Dutch Cleanser
The production example of the Bachmann Old-Time Reefer pictured above differs markedly from the catalog pre-production prototype found on the lower portion of this page.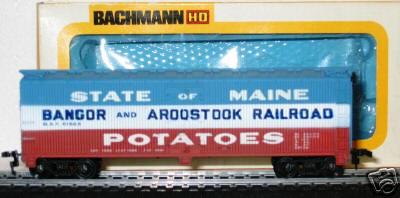 Old-Time Wood Reefer
State of Maine
No. 1241
Actually a Bangor and Aroostock Railroad car, Bachmann's State of Maine 41' Wood Reefer joins the line in the 1977 catalog.

One of four new rolling stock selections in Bachmann's 1974 catalog is the 41' Old-Time Wood Reefer. A picture of a prototype example lettered for Old Dutch Cleanser is provided in the catalog. To my knowledge, no production examples resemble this pictured car with archbar trucks and trussrod underframe. Even the Old Dutch scheme is not close to what was actually issued. No specific roadnames are presented in 1974, item 1259 Assortment is the only information provided for this car.
The car turns up with three examples in Bachmann's mid-'80s catalogs. Notice the car shown below is a much closer match, if not actual examples, to what Bachmann offered.
Tooling on this car is a bit curious. The Bachmann car very closely matches the design of the TYCO 40ft. Reefer, right down to filled-in steps which was not a typical Bachmann practice. The Bachmann reefer is different in size from the TYCO model by one half scale foot.
The Bachmann car is a single piece casting with a separate brake wheel. Of the examples in my collection, I find that the car was produced in Taiwan. Some examples include "R.O.C." with Taiwan and others have the "Republic of China" notation wiped off the car's underframe.