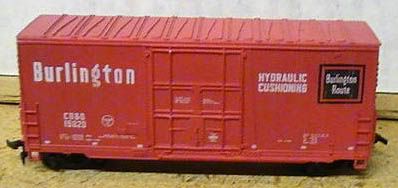 41' Hi-Cube Box Car
Burlington
No. 1201
41' Hi-Cube Box Car
Illinois Central
No. 1205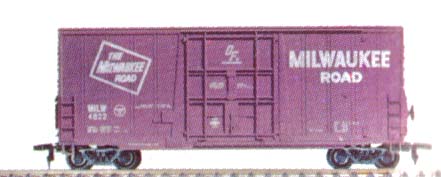 41' Hi-Cube Box Car
Milwaukee
No. 1202
41' Hi-Cube Box Car
New York Central
No. 1211
41' Hi-Cube Box Car
Rio Grande
No. 1203
The early '70s original release by Bachmann of this Rio Grande Hi-Cube arrived in box car red with white lettering. This is the only issue from Bachmann of this version of the Rio Grande Hi-Cube. Later offerings have all been in Grande gold and silver with black lettering.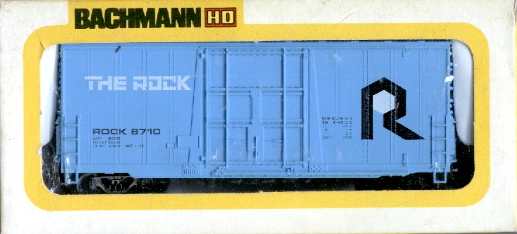 41' Hi-Cube Box Car
The Rock
41' Hi-Cube Box Car
Santa Fe
No. 1206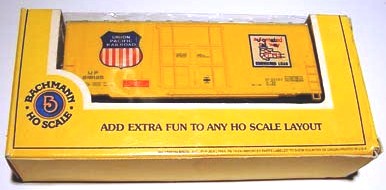 41' Hi-Cube Box Car
Union Pacific
No.1204
This UP example is pictured in Bachmann's short-lived open top display packaging from the 1980s.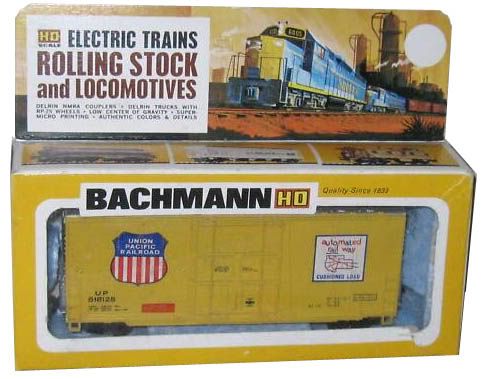 One of seven new body styles added to the HO-scale rolling stock line by Bachmann in 1972 is the 41' Hi-Cube Box Car Smooth Sides. The car lists for $2.50 in '72 and is initially listed with six roadnames: Burlington, Illinois Central, Milwaukee, Rio Grande, Santa Fe, and Union Pacific.