41' Mechanical Reefer
American Refrigerator Transit
No. 6123 -1968 Release
No. 5004 -1969 Release
41' Mechanical Reefer
Canadian National
No. 5009 -1969 Release
41' Mechanical Reefer
CP Rail
No. 5015 -1971 Release

41' Mechanical Reefer
Dubuque
No. 5010 -1969 Release
41' Mechanical Reefer
Fruit Growers Express
No. 6124 -1968 Release
No. 5005 -1969 Release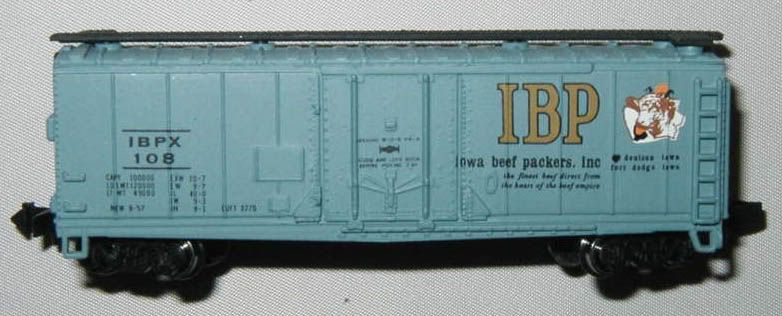 41' Mechanical Reefer
Iowa Beef Packers
No. 5008
41' Mechanical Reefer
Lehigh Valley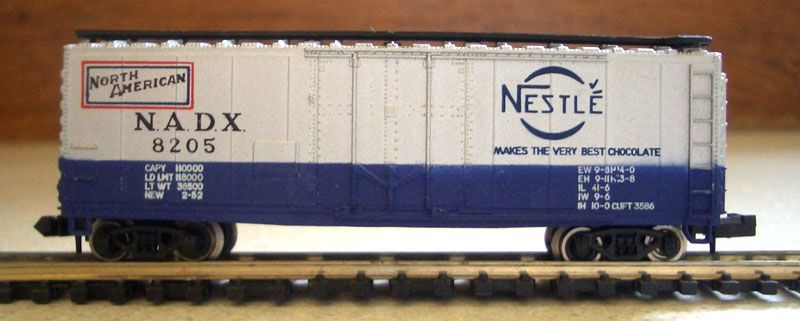 41' Mechanical Reefer
Nestle
No. 6120 -1968 Release
No. 5001 -1969 Release
41' Mechanical Reefer
North American
No. 6121 -1968 Release
No. 5002 -1969 Release
41' Mechanical Reefer
Transport Leasing Co.
No. 6122 -1968 Release
No. 5003 -1969 Release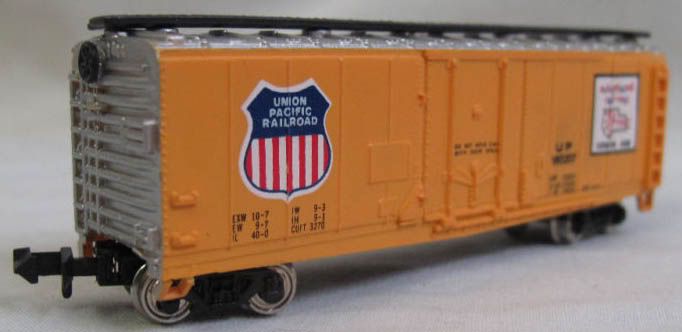 41' Mechanical Reefer
Union Pacific
No. 5007 -1969 Release
41' Mechanical Reefer
Western Pacific
No. 6125 -1968 Release
No. 5006 -1969 Release
Bachmann's original stock number series for this car was 6120-6125. The 1968 catalog includes six roadnames (Nestle, North American, Transport Leasing, American Refrigerator Transit, Fruit Growers Express, and Western Pacific). The retail in '68 is listed as $1.50 for the 41' Mechanical Reefer. The catalog includes an illustration of an AHM HO-scale 41' Plug Door lettered for Transport Leasing.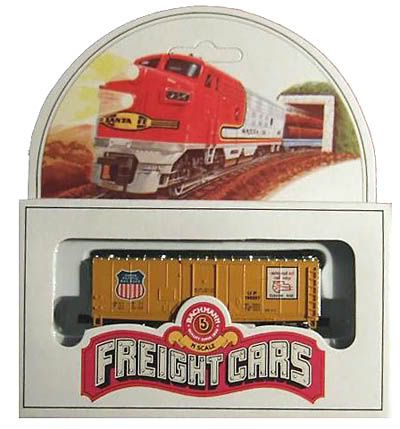 Bachmann's N-scale Rolling Stock debuted in 1968 in two piece plastic cases. The case's original design included a white base with clear top. Later, Bachmann released cars with a black base and clear lid. Both included raised lettering that was painted gold. The Bachmann 1981 catalog shows the carded box packaging shown at left.