Flat Car
Santa Fe with Container
No. 3406-001
Though not billed in the item description, examples of this car have a silver 40ft. container with green Burlington Northern markings. Shown first above is the Santa Fe 50ft. Flat Car with container removed. The container is located on the flat with two pins that hold it in place.
Flat Car
Union Pacific with Container
No. 3406-011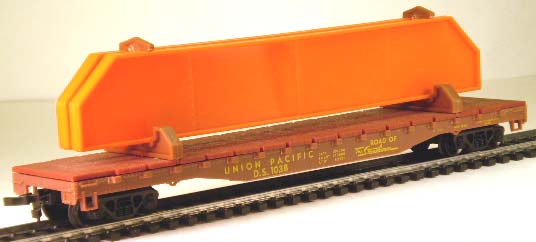 Flat Car
Union Pacific with Bridge Load

Flat Car
Santa Fe with Bridge Load
No. 3453-001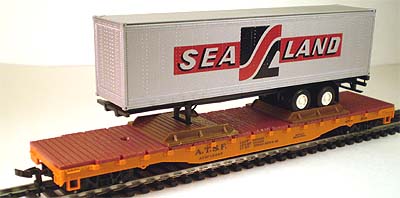 Flat Car
Santa Fe with Piggyback
No. 3455-001
The Santa Fe 50ft. flat's decoration is the same regardless of the load its carrying. This example features two separately cast pieces that the pig rests upon while on the flat car. The pig is actually Pemco's container riding on a trailer frame, as seen in the pictures above.
Below is the origin mark found on the Pemco container underframe.