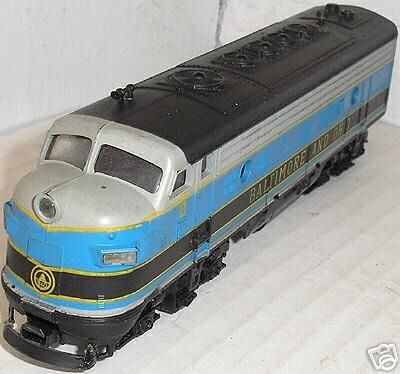 F9-A Diesel Locomotive
Balitmore & Ohio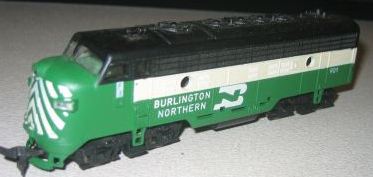 F9-A Diesel Locomotive
Burlington Northern
F9-A Diesel Locomotive
Canadian National
F9-A Diesel Locomotive
Canadian Pacific

F9-A Diesel Locomotive
Chicago & Northwestern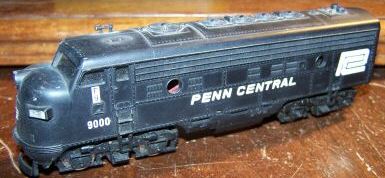 F9-A Diesel Locomotive
Penn Central
No. T233-G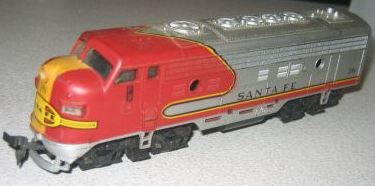 F9-A Diesel Locomotive
Santa Fe
No. T233-B
F9-A Diesel Locomotive
Union Pacific
From its appearance, the Life-Like F-9A looks to be the former American, Train & Track tooling. During the early '70s, Life-Like imported a number of locos from Yugoslovia. The Century 415 and 628, as well as RS-11 were all Yugoslovian-made examples. The C-415 was also part of the defunct AT&T line and got another run thanks to Life-Like.
The Life-Like F-9A carried a $14.00 retail price and appears to have been issued as a powered loco only. Life-Like gave the F-9A the stock number T233.
Click on the Life-Like ad below to see a larger version. This ad appeared in the February 1974 edition of Railroad Model Craftsman magazine and includes the F-9A model.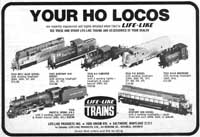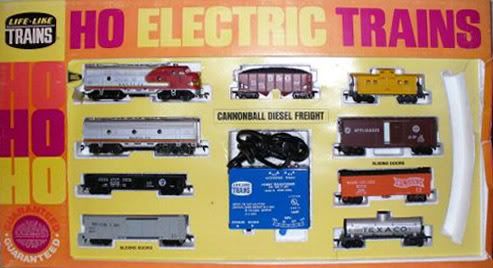 Above is Life-Like's early 1970s Cannonball Diesel Freight train set. Notice that it appears the Santa Fe A-unit is the Yugoslovian-made former American Train & Track F9-A, that Life-Like sold for a time in the early part of the 1970s. It appears to be mated with the former Varney tooling F7-B in this set. The Varney F7-A and F7-B tooling that Life-Like used was originally part of the Penn Line roster. The catalog image I have for this Cannonball set features the former Varney F7-A and -B units and doesn't reflect the contents of this set.