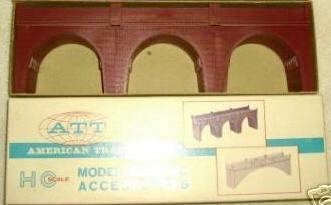 River Bridge
(No.600)
The ATT River Bridge measured 13 1/8" in length and was cast in a red brick color. The retail price was $2.98 for this kit.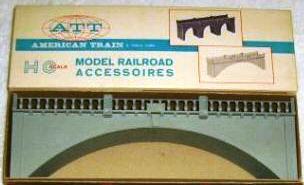 Viaduct
(No.601)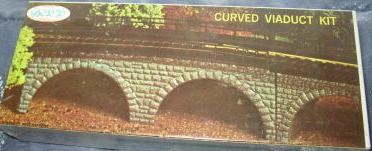 Curved Viaduct
(No.605)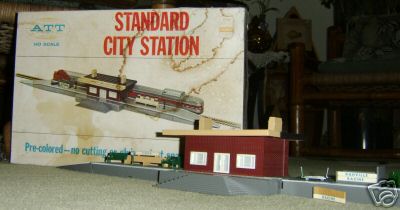 Standard City Station
(No.611)
An ad from ATT in the January 1968 Railroad Model Craftsman magazine calls this kit the Island Station. The kit carried a $3.98 retail price.
Station On A Curve (not pictured)
(No.612)
A multi-functional kit from ATT, the Station On A Curve is designed to handle either or both an 18" and 22" radius curve. If the kit is placed outside the curve, an 18" radius works; if the kit is placed inside the curve, then a 22" radius wraps around the kit. From end to end, the Station On A Curve measured 35 1/4" in length and sold for $4.98 in the late '60s.
Steel Arch Girder Bridge
(No.604)
Straight Viaduct
(No.606)
Giant Suspension Bridge
(No.602)
Here's an impressive offering from ATT's kit line, a 4'-6" long Suspension Bridge. ATT noted that this bridge could handle a single track of HO-scale or double-track N-scale. This snap together kit sold for $9.98 in the late 1960s. ATT's No.602L was a lighting kit for the Suspension Bridge. The lighting kit includes 24 grain-of-wheat bulbs strung on 12' of wire and sold for $4.98.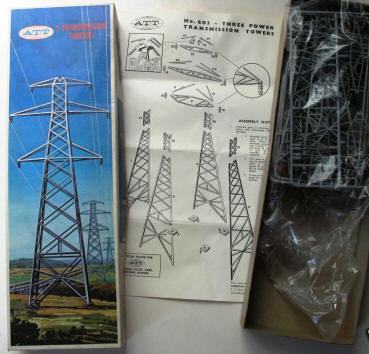 Tranmission Towers
(No.603)
Tunnel Portal
(No.607)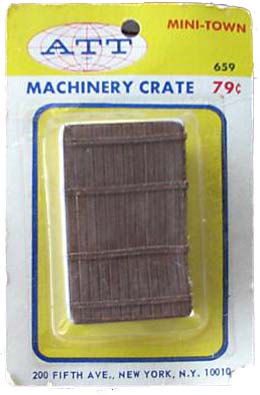 Machinery Crate
(No.659)